We have been wanting to spend time at Badlands National Park for quite some time! This particular trip was more of a learning experience than a hard-core backpacking adventure, but considering what we have learned on our visit and since, I can not wait to get back to the badlands.

Badlands National Park is located in South Dakota south of Wall, SD a popular tourist stop, and north of the Pine Ridge Reservation, one of the largest in the United States. There is also a lot of great information in this blog by the U.S. Department of Interior, 10 Things You Didn't Know About Badlands National Park. In this blog they address topics such as history, geology, and culture related to Badlands National Park.
The Sunset at Badlands National Park
We arrived at the badlands in the evening just before sunset. The timing of our arrival was a fortunate coincidence since the views over the jagged rock formations were stunning. It really was serendipitous to show up right around sunset and be able to have our first impressions of Badlands National Park occur during golden hour. This is a treat for hobbyist or professional photographers.
Camping Near Badlands National Park
We usually try to stay in a campground for the first night we arrive at a park. This gives us the opportunity to orient ourselves and decide a plan of action for exploring. Campgrounds are limited although we found plenty of space to set up a tent at the Badlands White River KOA campground. There were a lot of families staying at the campground, and they provided meals for purchase and accessible amenities. This was one of our most hospitable stays at a KOA Campground. There is plenty of room and staff and guests were extremely polite. It was also enjoyable to see families and children playing at the facilities.
Roadside Viewpoints
Even for visitors who do not plan on camping at Badlands National Park, the roadside viewpoints are worth the drive and make for easily accessible adventures for children and families.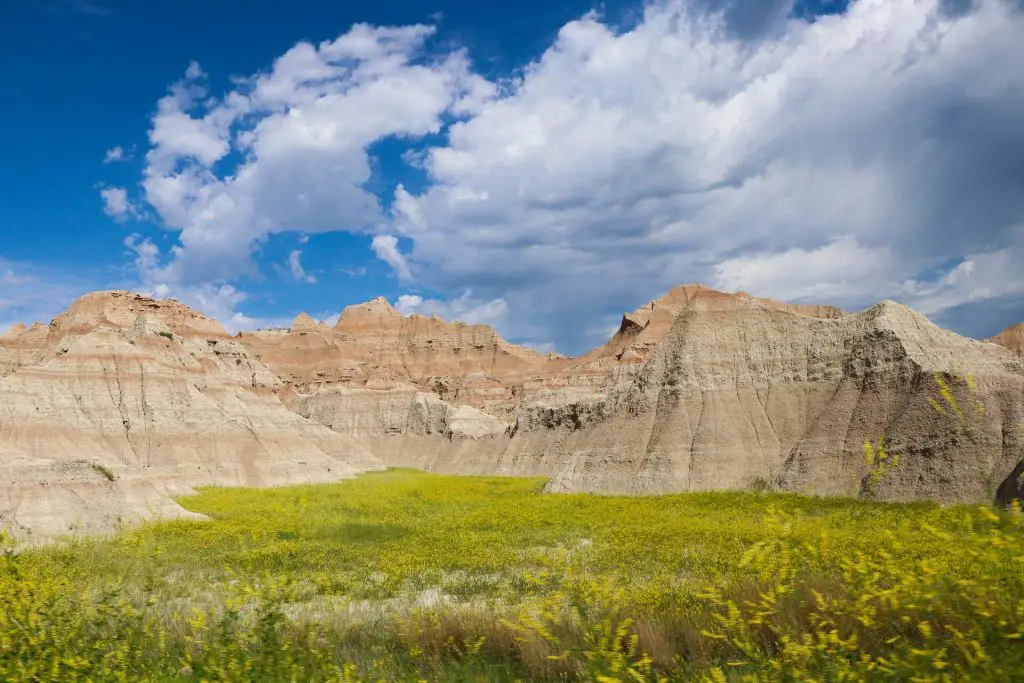 Saddle Pass Trailhead in Badlands National Park
As we drove down the main road through Badlands National Park we found the Saddle Pass Trailhead. We hiked over the pass to a trail head leading to a trio of trails winding through the grassy plateau. We scouted parts of Medicine Root Trail but ended up simply finding vantage points to take photographs. Signs indicated that it was rattlesnake country so we were constantly on the lookout. This was also a great stop to conclude our short trip to the park because we were able to take some last photographs of scenery just as beautiful as our first sunset.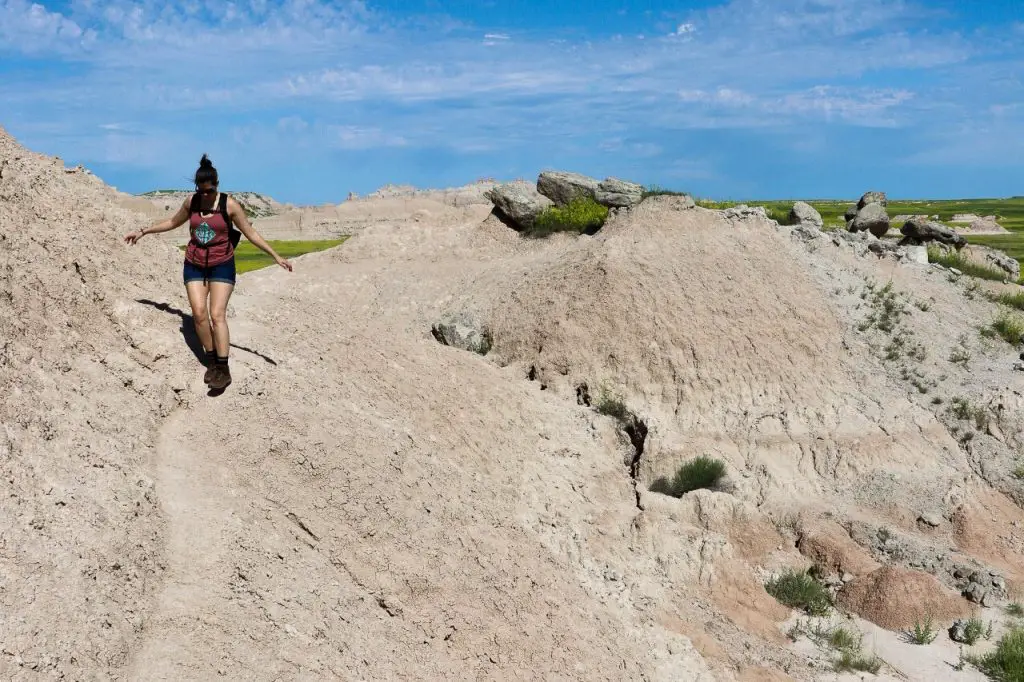 Final Thoughts on Badlands National Park
Once again, this was a quick trip through Badlands National Park and we fully intend on exploring the park in greater depth in the future. The fact that we were able to experience so much of Badlands in such a small amount of time is a testament to the accessibility of the parks. The roads are nice to drive on and each of the roadside stops offer incredible views and photographic scenery. This park has a really amazing set up for families to easily experience terrain that was once too rugged for people to casually visit.