A Colorado Childhood
Growing up in Colorado meant spending a lot of time outdoors with family and driving through the mountains to places like Spring Creek Reservoir in Gunnison National Forest, which I share more about below.
I grew up in Grand Junction, Colorado on the Western Slope of the Rocky Mountains where the Gunnison River meets the Colorado River. We lived about fifteen minutes from the Colorado National Monument, an hour from Grand Mesa National Forest, about an hour from natural hot springs in the mountains, and only two hours from Moab, Utah where Arches National Park is located. There were so many beautiful, natural places to experience as a kid, but it took me nearly 25 years to fully appreciate those experiences for what they were.
Taking Experiences For Granted
The first time I realized I took these experiences for granted was when I moved to Los Angeles in 2011 for six months to give my dreams of professional dancing a shot. There are tons of beautiful places in Southern California to explore, but there was nowhere near the open space I'd experienced in Colorado. Driving fifteen minutes from the house I grew up in to feel complete solitude in the natural world is something I missed.
The second time I realized I took my life in Colorado for granted, was when I moved to Indiana in 2016. This time, I knew I'd miss the mountains having left them before, but it was also much harder than I expected to adjust to the outdoors of Indiana. That's why we took almost every opportunity we could in our first few years as Hoosiers to go back to Colorado and enjoy the places we hadn't when they were in our own backyard.
Spring Creek Reservoir in Gunnison National Forest
With all that said, when we knew we were making our way back to Colorado in the summer of 2017, we had our sights set on camping (read more about the benefits of camping here). It just so happened that we would be in Colorado over the 4th of July. I decided to see if my parents, who were new owners of an R-Pod trailer, were free and wanted to join us for some camping over the holiday. We'd be driving in from the East, and my parents would be coming from the Western Slope, so we decided to find a happy medium spot to meet: Crested Butte, CO named after the nearby peak Mt. Crested Butte.
Crested Butte is a small, charming mountain town near Gunnison National Forest situated almost right smack in the middle of the Colorado Rockies. My parents knew of a camping spot in the area with lake views of Spring Creek Reservoir. I took their word for it, and we planned to meet in Crested Butte and caravan up to Mosca Campground for a couple nights in the solitude of Gunnison National Forest.
Gunnison National Forest
Gunnison National Forest has at least 25 maintained campgrounds, as well as numerous areas for dispersed camping included in its 1.7 million acres of public land. It's surrounded by other national forests such as Pike National Forest, White River National Forest, and Uncompahgre National Forest. Gunnison National Forest is also home to the well-known Kebler Pass, which is famous for scenic drives through golden aspens in the Autumn season. The pass takes you from the town of Paonia to Crested Butte, so depending on the direction you're coming from it is a great way to get to one of the many campgrounds in Gunnison National Forest.
Mosca Campground, where we ended up setting up camp, is right off of Spring Creek Reservoir and includes 15 campsites—although some websites report 16 total sites. We snagged a spot with views of the water with room for both Luke's and my tent as well as my parents R-Pod. Their R-Pod is equipped with a kitchen, making our meals both easy and tasty. My mom brought some pre-cooked food for dinners, and we made breakfast burritos and sandwiches for our other meals—nothing too fancy, but enough to satisfy our stomachs and taste buds. We played a card game called Timeline, drank CO brews, and made memories while hiking around the reservoir.
Hiking around Spring Creek Reservoir
The hike around the Lake was perfect for a short and relaxing afternoon exploration. There's not really any elevation gain, but you're already over 10,000 ft. above sea-level. Regardless, it made for a leisurely hike for the four of us to enjoy together. There are a variety of trails around the area of Mosca Campground to explore, but we opted for something less strenuous.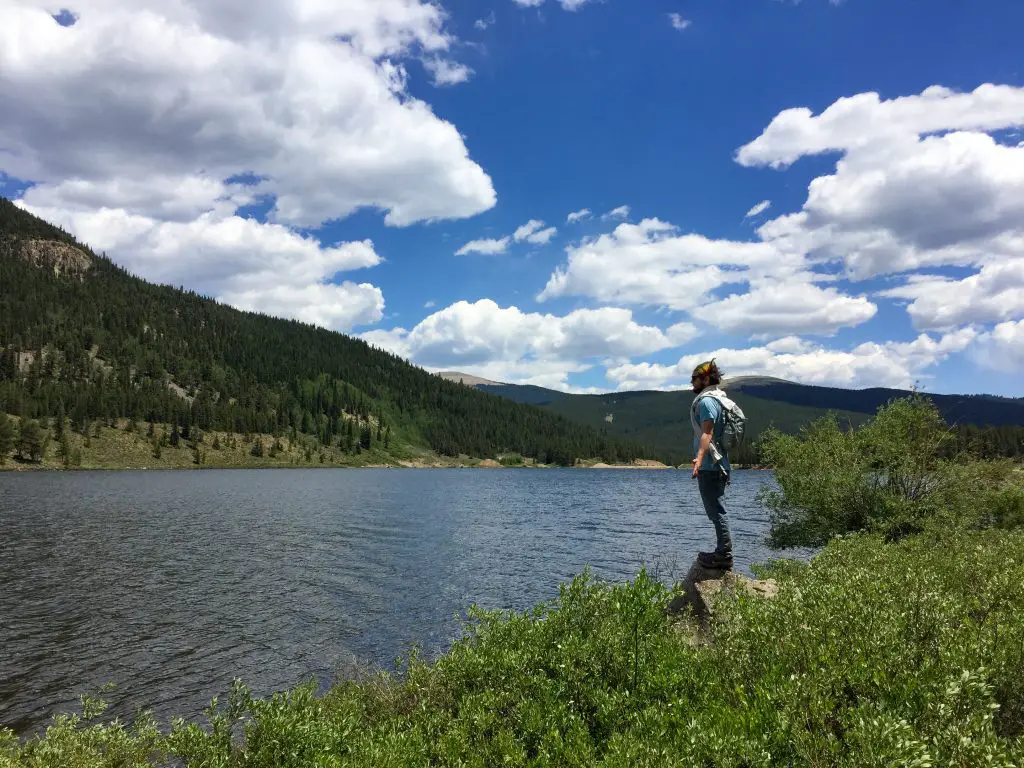 Camping at Mosca Campground
We spent two nights camping at Mosca Campground, and even though we are both from Colorado, we weren't quite prepared for the temperature drop at night. We'd camped our way across the Midwest on our way out to Colorado, sometimes sleeping on top of our sleeping bags because it was so hot at night. Thankfully, we knew enough to bring winter coats and hats with us, but I was still chilled at night. It didn't help that our sleeping bags were only for 45-degree Fahrenheit minimum weather. We've since invested in some warmer camping gear. If you're headed up to the mountains anywhere in the summer, remember, it can still get close to or below freezing at night.
Making Memories at Spring Creek Reservoir
All said and done, this camping trip brought me back to those childhood memories of exploring the great outdoors with my family, but this time I felt grateful for all those experiences, even if I dragged my feet through them (sometimes literally) at the time. These two nights were some of my favorite memories with my parents in the last few years, and I'm eager to make more with them as they continue to explore the country in their R-Pod. If you have the chance to explore Gunnison National Forest, whether you're camping, taking a day-hike, driving over Kebler Pass, or braving a fourteener, I hope you make memories as amazing as ours!