3 Reasons to visit Bottomless Lakes State Park
Bottomless Lakes State Park is a quaint state park just outside of Roswell, New Mexico. It was the first state park to be established by New Mexico in 1933 and is home to a system of water-filled sinkholes that reach depths up to 90 feet. These "bottomless lakes," while not technically lakes, provide an array of activities for visitors, from fishing and swimming to scuba diving in the under-water caverns.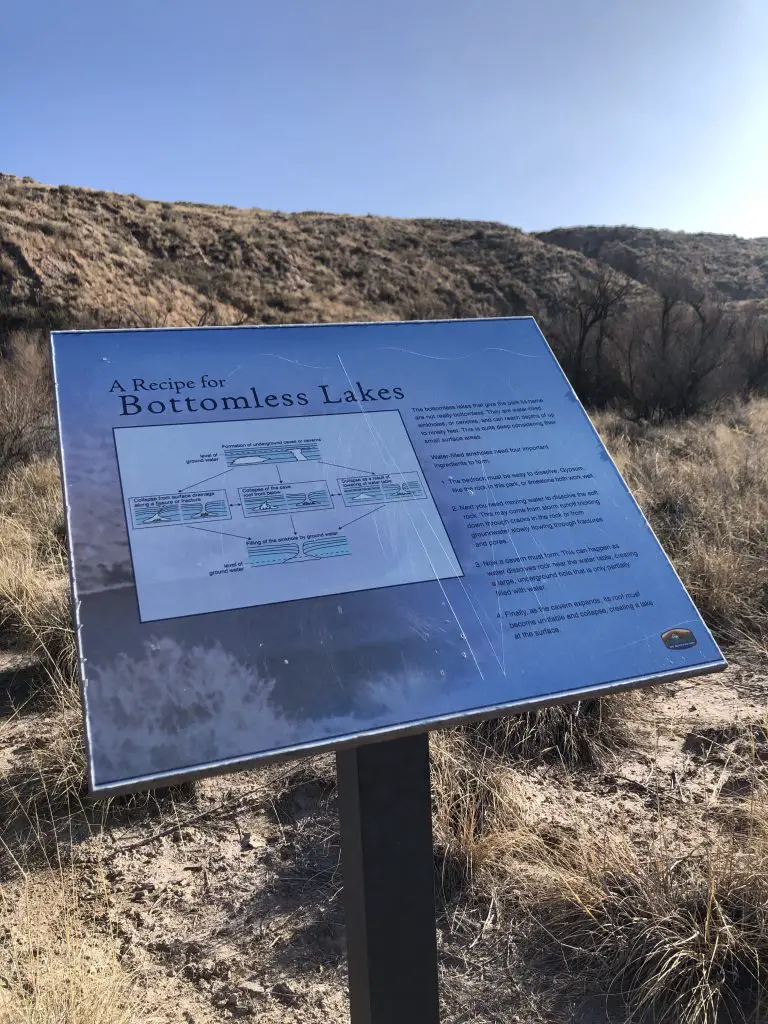 After visiting the park myself, I came away with an impression that it is underrated and should be on more folks' radars. Read on for my top three reasons to visit Bottomless Lakes State Park on your next trip to New Mexico!
1. Accessible Campsites and Trails
Making the outdoors accessible has been a growing conversation among national and state parks over the last decade. With organizations like Accessible Outdoors and Access Recreation popping up, more parks and organization are making a push to include American Disability Association (ADA) accessible campsites and trails. Bottomless Lakes State Park just outside of Roswell, New Mexico is one of many parks putting in the effort to curate accessible spaces for visitors to enjoy nature.
First, the state park has at least three wheelchair accessible camp sites on the Lea Lake campground loop all of which are connected to onsite restrooms via sidewalks. The Wetlands Trail is also mostly wheelchair accessible with the majority of the trail leading visitors into the wetlands via a floating walkway. The walkway leads out to an overlook of the wetlands, something I didn't get to experience fully since we were there in the height of the dry season.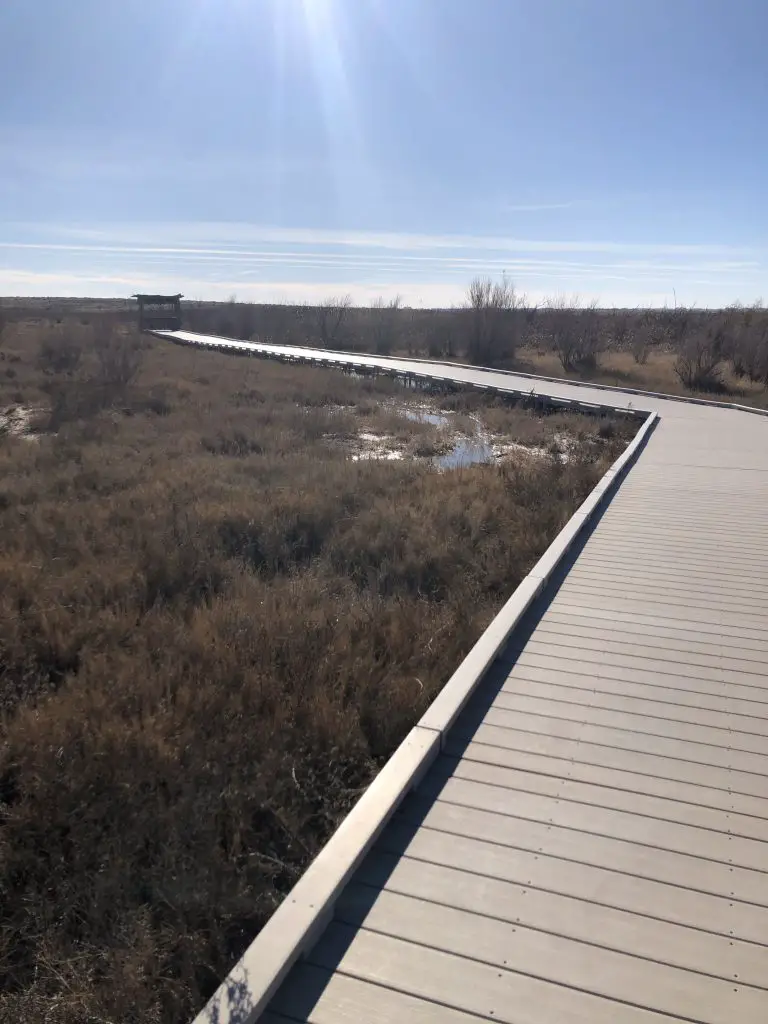 Looking beyond wheelchair accessibility, we can also appreciate the accessibility of the the well-maintained, short, wide, and flat Bluff Trail. At just under a mile each way, the Bluff Trail is perfect for those who cannot hike long distances due to age or disabilities such as chronic illnesses. The trail also has nearly no tripping hazards, which is something I'm always thinking of as the daughter of someone with Parkinson's Disease.
2. Diverse Array of Activities
One thing that surprised me about this small state park was the diverse array of activities available to visitors. I have already covered some of the hiking to be done at Bottomless Lakes State Park, but the active entertainment does not stop there!
Swimming at Bottomless Lakes State Park
During the warmer months, swimming is a huge activity here. As you can see in the photo of Lea Lake Day Use Area below, there is the stunning and historic Lea Lake pavilion area with tons of shade to accompany an equally impressive swimming area. The water is clear and clean, and the sandy beach area is more inviting than you might expect for a desert lake. The swimming area is sectioned off for safety, and the day use area is complete with outdoor showers for rinsing off before returning to your campsite.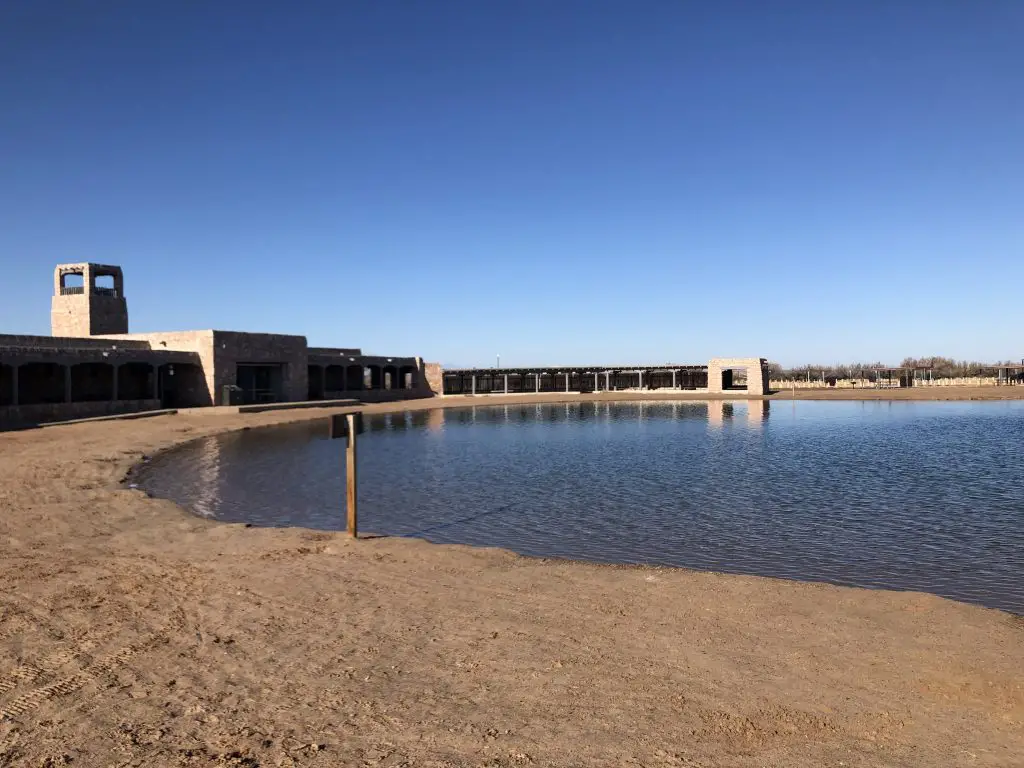 Mountain Biking at Bottomless Lakes State Park
While I am not a mountain biker myself, I did see a handful of cyclists on the drive in who I assumed were headed either to or from Skidmarks Trail near the entrance of the park. The trail includes three miles of bottomless fun and earned itself 4/5 stars on Trailforks. Skidmarks Trail is generally rated as intermediate, and seems to be a well-known destination for mountain bikers in the Roswell area.
Scuba Diving at Lea Lake
I may not be a mountain biker, but I am a scuba diver, and—needless to say—I was surprised when I learned that New Mexico had not just one, but many scuba diving destinations, including Lea Lake. In fact, some even tout New Mexico as the scuba diving capital of the Southwest. With depths up to 90 feet, the diving in Lea Lake is so well-known that the park even hosts a Bottomless Bubblefest for scuba diving enthusiasts to gather and enjoy the nearly 50 foot visibility during the peak June-August diving season.
3. Affordable Day Passes and Campground Fees
The last reason to visit Bottomless Lakes State Park, if you aren't already convinced, is the affordability of day passes and campground fees. Day passes for those wishing not to stay overnight are just $5 per vehicle. With it being so close to Roswell, it would not surprise me if local folks regularly pop in for a day of swimming, hiking, or fishing at such an affordable rate.
Now, onto campground fees for those wishing to stay a while longer. At just $14 a day for sites with electric and water hook-ups, AND onsite showers, you simply cannot beat the price. I have stayed at state parks that are $50 and above per night, so you can trust me when I say this is a steal!
It is important to note that the onsite showers and restrooms in the Lea Lake campground loop are not open year round. During the "off-season," these facilities are closed, while the price-per-night stays the same. There are, however, clean public restrooms available year round just a short walk away at the Lea Lake Day Use Area. And for a well-maintained, clean campsite at a state park, I will gladly pay $14 per night with or without a hot shower.
But really… go visit Bottomless Lakes State Park!
Now that you have read my three top reasons visit Bottomless Lakes State Park, what are you waiting for?! Take the plunge—perhaps quite literally—and enjoy this New Mexico state park for all it has to offer.