Rabbit Ears Pass is one of my favorite spots for adventure in the Colorado mountains. There are so many things to do and the scenery is truly amazing. People can camp in the area at either the campground or find a dispersed spot in the forest. Fishing is easily accessible at Dumont Lake. You can admire the abundant wildflowers, mushrooms, and wildlife. And of course, bring a camera along and document it all in pictures.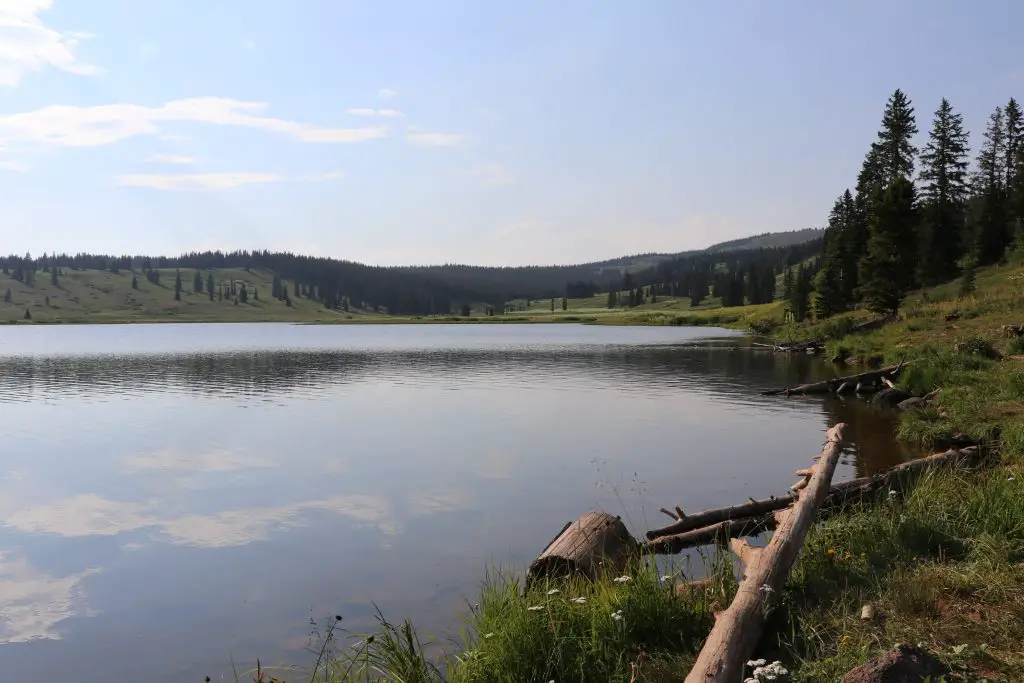 Here I want to share some of our great experiences at Rabbit Ears Pass. To be clear, we have had experiences when we got snowed in, so if you are visiting Rabbit Ears Pass be sure to check on weather conditions and seasonal road closures. But, the experience I am sharing in this blog took place in the summer, so as you will see it was gorgeous and we had a great time!
Camping at Rabbit Ears Pass and Dumont Lake
Fortunately for campers who want easy access to Dumont Lake, there is Dumont Lake Campground. Dumont Lake Campground is close walking distance to Dumont lake and is a great setting for travelers that want to try their hand at fishing in the Lake. We saw families having a great time in the campground where small groups could hang out in the campground while others could split off and go fishing in the lake.
The campground has picnic tables, a vault toilet, and fire grates, but campers are asked to pack their water in for the trip. Campers can use boats in the lake but are limited to electric motors or hand propelled boats. With that said, there are plenty of activities to enjoy while camping at Rabbit Ears Pass and Dumont Lake.
If you would like a more remote camping experience, you can find a dispersed camping spot further up the forest roads into Route National Forest. This is how we opted to camp on our stay and we were still within walking distance of Dumont Lake. It was a bit more walking than the campground but only a couple miles. So, dispersed camping suited us well.
Hiking around Rabbit Ears Pass and Dumont Lake
If you would like to do some hiking while you visit Rabbit Ears Pass and Dumont Lake, then you are in luck. As previously mentioned Route National Forest is near Dumont Lake. Find a forest map online and you can find a wide variety of hiking adventures into the mountains. You can also simply walk along the forest roads to get exercise and see the flowers and wildlife.
Even if you are staying at Dumont Lake Campground and want to stay close by your campsite, you can wander along some of the small trails around the picnic area at Dumont Lake. There is a day use fee to be in the area of Dumont Lake so be sure to abide by all posted regulations. But, my point is if hiking is your hobby, you will have a variety of options when you visit Rabbit Ears Pass.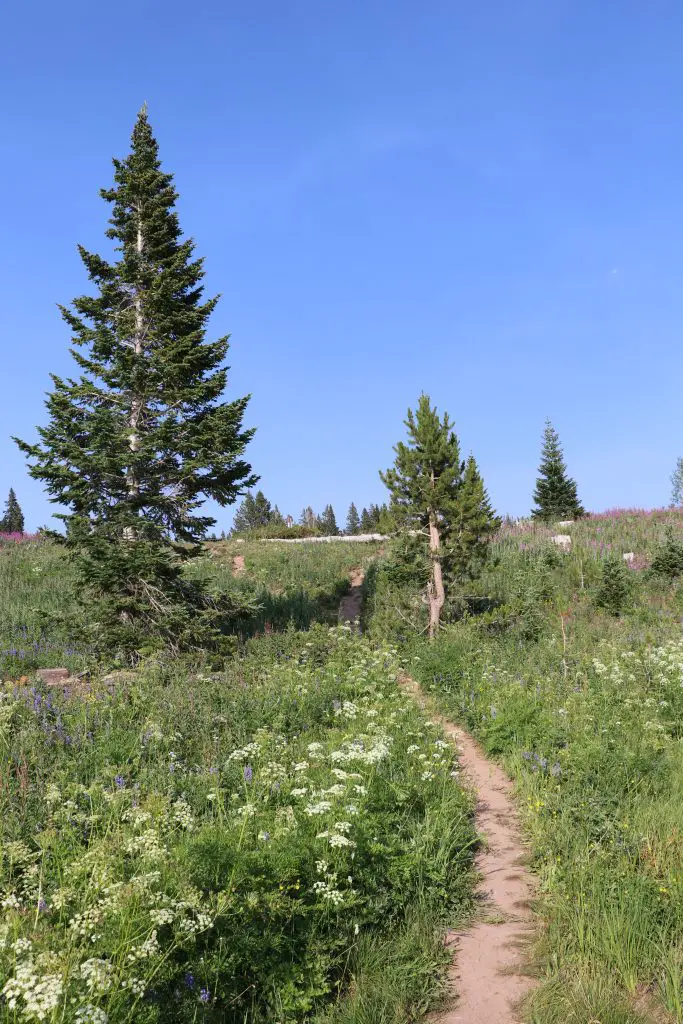 Alternatively, you can bring your mountain bike and explore most of the same trails and roads. Once again, be aware of regulations and be sure to follow them closely so we all enjoy recreation in the area.
Fishing in Dumont Lake
Fishing is another common recreational activity when visiting Dumont Lake. As I mentioned fishermen can bring electronic and hand propelled boats if they choose, but bank fishing is also possible. While we were camping at Rabbit Ears Pass, I chose to try my hand at bank fishing at Dumont Lake. I had a successful day fishing, as I caught a hand full of medium size trout.
I was using a combination of spinners and spoons. When I start fishing at a new lake, I like to put on a fairly heavy spoon and use it to sort of map out the underwater terrain. I like to use a 1/8th or 1/16 ounce Kastmaster or something similar and work it in different water columns to figure out things like water depth and the locations of rocks and weeds. It can also help me figure out where the fish are biting.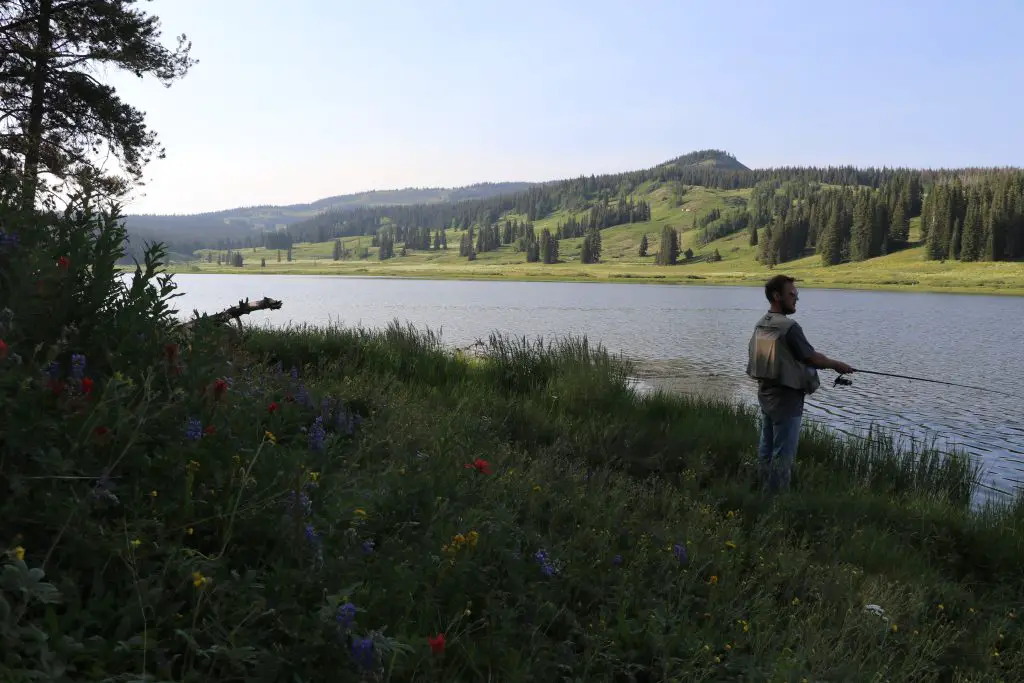 On this particular day the fish were biting near the top of the water, especially as the evening approached. I learned this information because I did not get any bites when I was jigging my spoon on the bottom, but I began to catch fish when I swam the spoon quickly and closer to the surface of the lake. Once I figured out the bite. I put on a spinner that is designed to spin near the surface, and I began catching trout pretty frequently. Every few casts or so I would get a bite, as I worked my way around the Lake.
In short, there is some good fishing at Dumont Lake if you go at the right time and find the right bait. I also saw several fly fisherman on the lake, and considering the fish were biting near the surface, this is also likely a good means of fishing when visiting Dumont Lake and Rabbit Ears Pass.
Photography at Route National Forest in Colorado
When we visited Rabbit Ears Pass and Dumont Lake in the summer months, there were endless photography opportunities as we explored the area. Be sure to check out our full Photo Gallery of Rabbit Ears Pass and Dumont Lake. Once again as I mentioned, you may see abundant wildflowers, mushrooms, and wildlife to photograph. Or you can just use the mountains and meadows as you backdrop for scenic nature photography.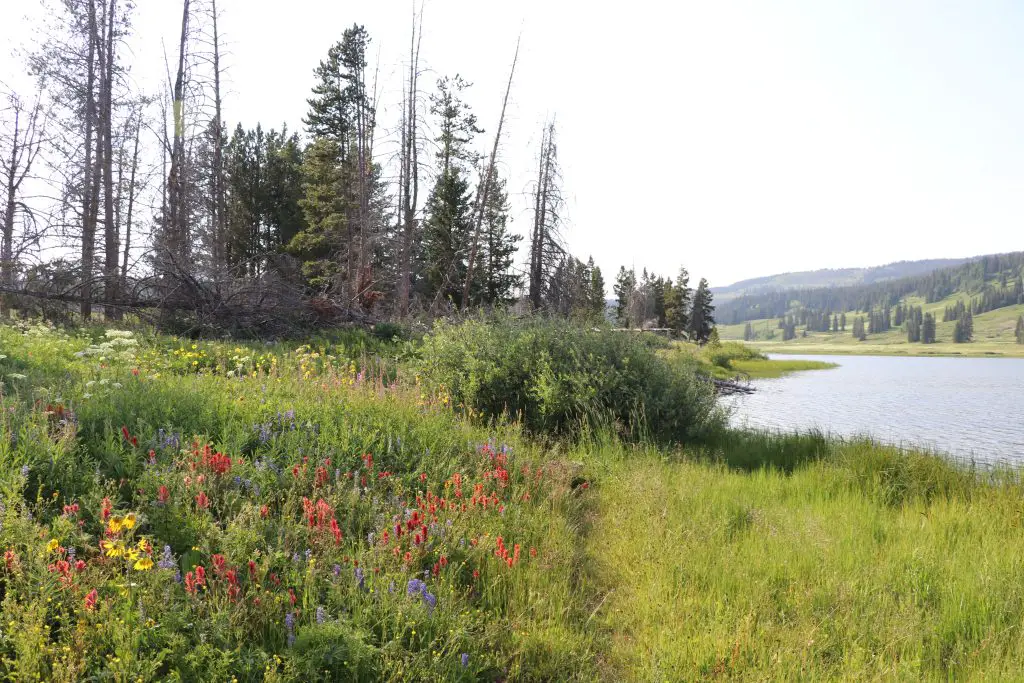 Final Thoughts on Visiting Rabbit Ears Pass and Dumont Lake
Rabbit Ears Pass is one of my favorite places to visit in the Colorado Mountains because of its close proximity to the outdoor activities I enjoy. I can easily walk to Dumont Lake and go fishing or take photos of the fields of wildflowers. Or, I can hike up the forest road and see more flowers, as well as mushrooms and wildlife.
Rabbit Ears Pass is really a great place for a Colorado camping experience, please enjoy this area responsibly!