Dining in Sydney Australia can be expensive for the modest traveler. But, that doesn't mean that you can't have a memorable dining experience as you travel through Australia's capital. In this blog, we share one dining experience that we rank amongst the best cheap eats in Sydney, Australia: Harry's Cafe de Wheels. This experience is 100% Australian, it has been highlighted by culinary greats such as Anthony Bourdain, and it will not break the bank.
Introducing Harry's Cafe de Wheels
We first learned about Harry's Cafe de Wheels while visiting Sydney in 2017. We were initially shocked by the high prices of food and drink throughout the city, but we still wanted to have a memorable experience that included delicious local eats. Naturally, we began to watch episodes of cooking and travel shows that took place in the city. This is when we encountered Anthony Bourdain's episode of No Reservations that features Harry's famous meat pies.
What makes this tiny restaurant on wheels a great travel experiences, however, reaches beyond those famous meat pies. Harry's Cafe de Wheels has a long and rich history in Sydney starting way back in 1936 when Harry Edwards opened the food cart near the Woolloomoolooo naval dockyard. Toward the end of the century, word of Harry's had spread worldwide, attracting celebrities from all facets of the entertainment industry and further solidifying the "famous" in Harry's famous meat pies.
It didn't take long to convince us to journey out of our hotel in search of those famous pies. We typically walk as much as possible when we're traveling for a couple reasons. First, seeing a city by foot means you can take in so much more of what is going on around you. Second, you get to have a much more intimate experience with the streets you're traveling when you are walking them, rather than riding in an Uber. With that said, we gathered every bit of energy we had after a jet-lagging few days of traveling from the US to Australia via a 72 layover in China and set out to find Harry's famous pies by foot.
We took the longer route through the parks pictured in the map above. That meant the walk was about 30 minutes including all our stops to take in the city's scenery. It was just long enough to work-up an appetite!
Harry's Meat Pies and a Ginger Beer
Once we arrived, we ordered our meat pies and ginger beer from the window of the portable restaurant. It was similar to a food truck, but it seemed pretty stationary at the corner where it was situated. We arrived slightly before the lunch rush, so we were able to watch the crowd as we sat nearby and dined.
We both opted for the exact meal Anthony Bourdain had: Curry Tiger Pie, which is a a meat pie of curried beef, mashed potato, mushy peas and brown gravy with a Bundaberg Ginger Beer because "when in Australia!" While it may not sound particularly appetizing, this pocket-sized pie was a delight to the tastebuds! Paired with frosty ginger beers and views of Woolloomooloo Bay made them taste all the more sweeter!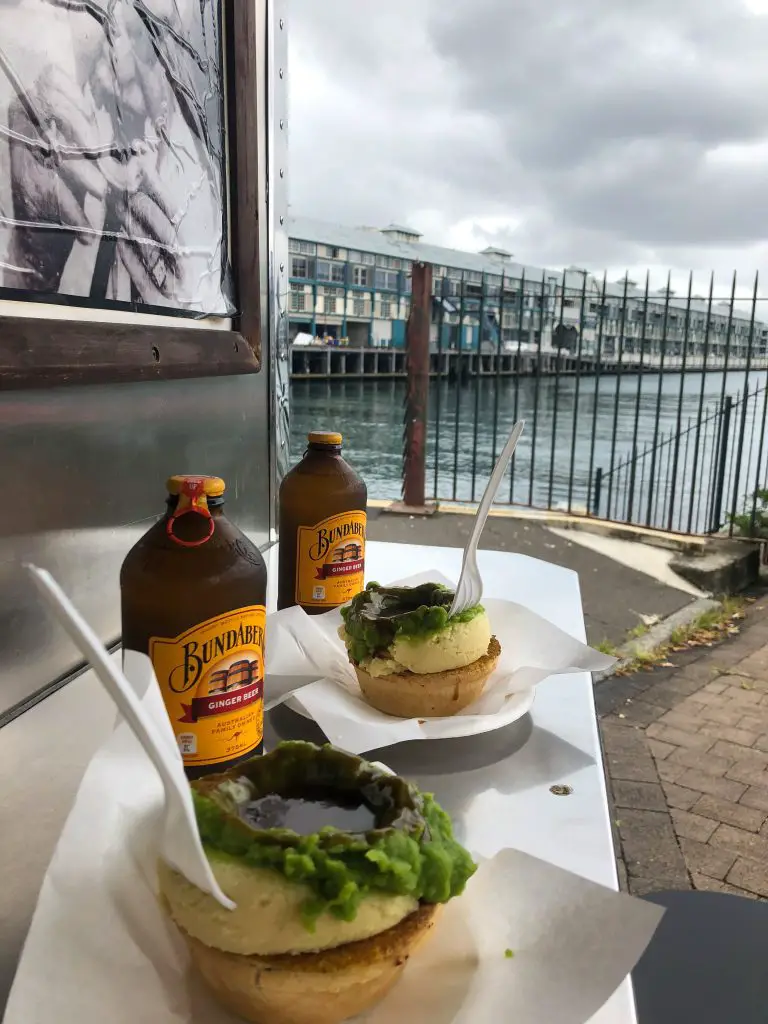 Final Thoughts on Harry's and the Best Cheap Eats in Sydney, Australia
We traveled to Australia on graduate student stipends, and therefore had to budget accordingly. Finding historically significant spots to dine that didn't break the break was key to both stretching our dollar across the three-week trip and experiencing Australia for the culturally rich country it is. If you find yourself in Sydney, don't forget to make a stop of Harry's Cafe de Wheels to experience their famous pies for yourself! We promise, you will not regret it.