The Frontier Albuquerque is easily touted as the best food in Albuquerque. Large dining rooms, breakfast all day, bowls of green chile, and more await you, with open arms, at Frontier Restaurant. The restaurant opened in 1971 and has been a staple in the Albuquerque and University of New Mexico community since, in part because of its delicious rendition of the state's famous green chile.
What Food is New Mexico Known for?
New Mexico is known for its green Chile. You can eat green chile like a soup with a tortilla on the side, or you can pour the stew over a burrito, enchiladas, and whatever else your heart desires. Green chile is best described as a pork stew made with green Chile peppers. New Mexico is famous for its Hatch Green Chiles, named after the New Mexican town they are found in. Therefore, most of their green chile in the state is made with flavorful hatch green chiles.
Personally, green chile is my favorite food. I like to make it in bulk and freeze some for a later time in the year. It is a great meal for serving guests and is especially great on a cold day. If you've never indulged in this delicious culinary experience, New Mexico is absolutely a great place to have that first experience. So, make sure not to miss out on a good old fashioned green chile smothered burrito while you're visiting.
You will find green chile on the menu at many restaurants in New Mexico. But, it goes without saying that the Frontier Albuquerque has some really great green chile. With a self-serve green chile bar, you can pour the stew all over your breakfast burrito or carne adovada dish to get that full green chile experience.
The Frontier Albuquerque: A local Institution
We have now been to Frontier Albuquerque on several occasions but my first two experiences happened in a similar manner with locals telling me it was the best food in town.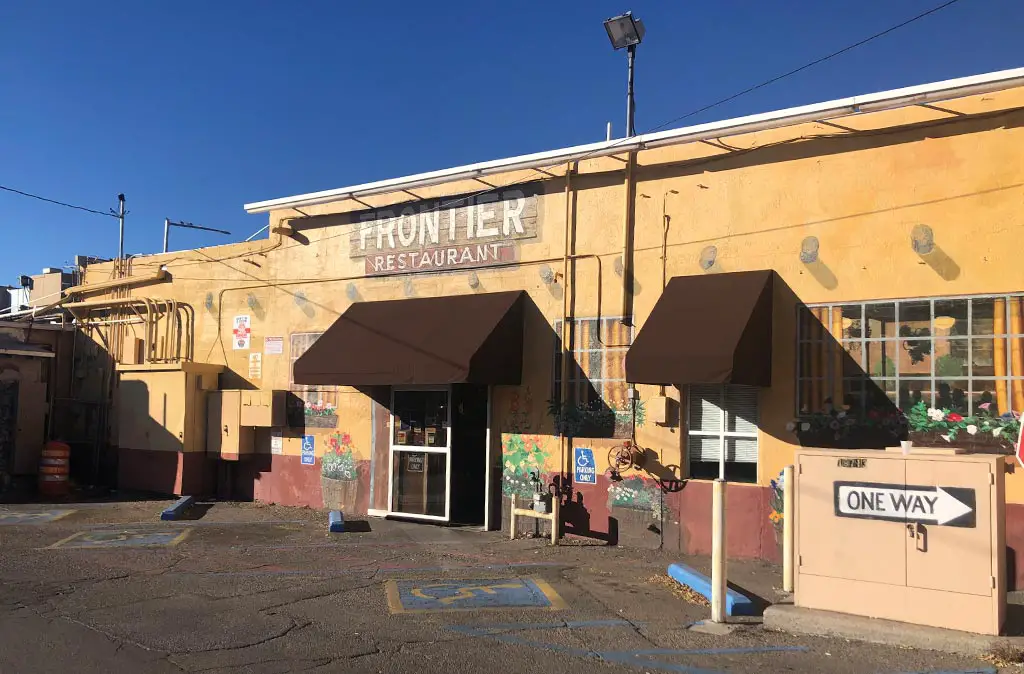 I first learned about Frontier while I was attending a conference in Albuquerque. One of my professors was married to someone who had gone to college at the University of New Mexico. This guy took several of us graduate students to Frontier for dinner one evening. I remember him raving about hanging out there during college. The second time I went with my partner, Stephanie, and while passing through the area we saw a couple groups of students studying. With spacious dining rooms and a comfortable environment, it makes sense that nearby college students would adopt Frontier as a great spot to study and grab a bite to eat.
On a separate occasion several years later I was telling some family friends about plans to visit Albuquerque. One person who had lived in Albuquerque for a period of time insisted that we go to her favorite restaurant in town. By this point in time I had forgotten the name of Frontier from my previous visit, but as soon as I arrived, the large seating areas and flowing green chile reminded me of my previous experience. Needless to say, I was glad to have made it made it back for their famous green chile!
Our Experience with the Best Food in Albuquerque
Recently, we have visited Frontier twice. Once on our way to Texas and once on our way back, both times we spent a few days in Albuquerque. Our first visit was during the afternoon on a weekday when the restaurant was not busy, which was nice. We had amazing food and a short line. The dining areas were near empty, and the popularity was not apparent.
Our second trip incidentally happened during prime brunch hour on a Sunday. On this occasion we still had great food but the wait was longer. I imagine there were between 75 and 100 people in line in front of us. All said and done, the line moved impressively quickly and, once again, we were satisfied with our meal and overall experience.
Final Thoughts on Frontier Albuquerque
Frontier Albuquerque is the best food in town for a couple of reasons. First, they have truly great food that is inexpensive. Second, Frontier is a community staple and has served the Albuquerque community for over five decades. Word of mouth advertising must be amazing for this business because we heard about it by word of mouth on multiple separate occasions, and likely would have never ended up there without those recommendations.
Frontier Albuquerque is open long hours so you can enjoy their food and the atmosphere just about any time of the day.
The Best Mexican Food in Lake Havasu City
If you make it to Lake Havasu City, Arizona on your travels, be sure to enjoy their Mexican food. Arizona is known for its chimichanga, but there is plenty of options if you visit Humberto's Taco Shop in Lake Havasu City!