Have you ever wondered what goes on in Winter Park, Colorado, a ski town in the summer?
It turns out Winter Park, Colorado offers accessible trails and stunning views in the summer months. You can also find tons of mountain biking trails on the mountain if you're looking for a bit more adrenaline than a hike brings. Although, admittedly, mountain biking is not my thing. (I've never been particularly coordinated on a bike, and my childhood and college friends—and some scars along my ankles and knees—can vouch for that.) 
Lodging in Winter Park, Colorado
Ski towns in the summer also offer an interesting experience for budget travelers: luxury. Unlike the hefty prices of lodges and resorts during the ski season, the summer can offer inexpensive accommodation packages. For this particular stay, we spent just under 100 dollars per night to stay in our own luxury loft. Obviously, this is more expensive than camping in the nearby Arapaho and Roosevelt National Forests but sometimes discount accommodations are worth the price. 
We ended up finding a Groupon for The Vintage Hotel in Winter Park, Colorado—which is what made our stay extra cheap. The hotel is walking distance from the free gondola that takes you right into The Village at Winter Park where you can find shops, restaurants, and trailheads nearby. It's a great little getaway in the mountains without the effort of setting up camp, if that's what you're looking for. On this particular visit to Colorado, we had already done lots of camping both on our drive to Colorado and once we arrived in our home state, so we needed a place to clean up and rest for the wedding we were set to attend the next day! 
This hotel provided the perfect set-up for what we needed at the time. We got to relax in their outdoor hot tub, spend some time sweating in the sauna, and they had onsite laundry machines where we washed our camping clothes from the nights prior. We were also a free ride and short walk away from a trailhead that took us to the top of slopes to the Sunspot Lodge. You can take a ski lift up to the top, but of course, we opted to hike our way up the mountain via Ute Trail.
Ute Trail Winter Park, Colorado
The hike wasn't particularly long, although the trail winds up the mountain with many switchbacks, making it longer than the distance from The Village at Winter Park to the Sunspot Lodge as the crow flies. This particular hike is not as popular as some of the others around Winter Park, likely because you can see the town for the entire hike. You never really feel like you are in the middle of the mountains in solitude, but if you don't have the time to explore some of the nearby peaks, this hike is a great alternative for a slightly more accessible adventure in the mountains.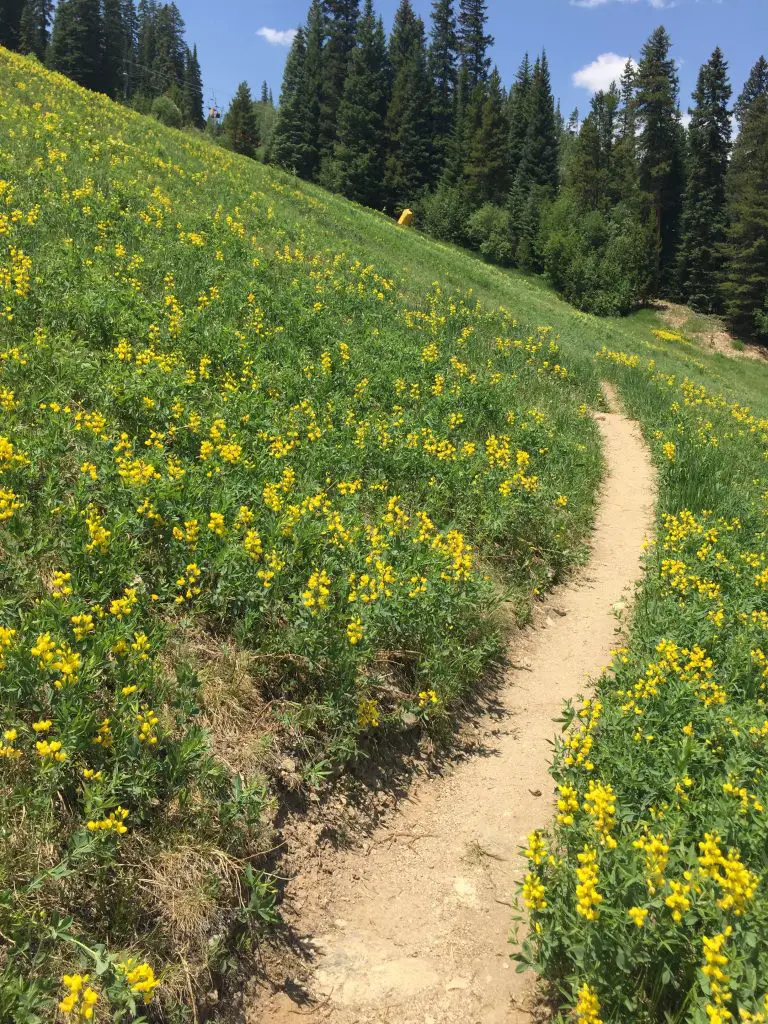 The view of town, although different from a glacial lake or meadow of columbines, definitely holds its own. As you walk up the mountainside, the town starts to disappear in the background as you make your way to the top of the trail which nearly reaches 11,000 feet above sea-level. If you are there during wildflower season, you are in for a treat. You will walk through meadows of golden banner wildflowers that will be covered by snow and skiers in just a few short months.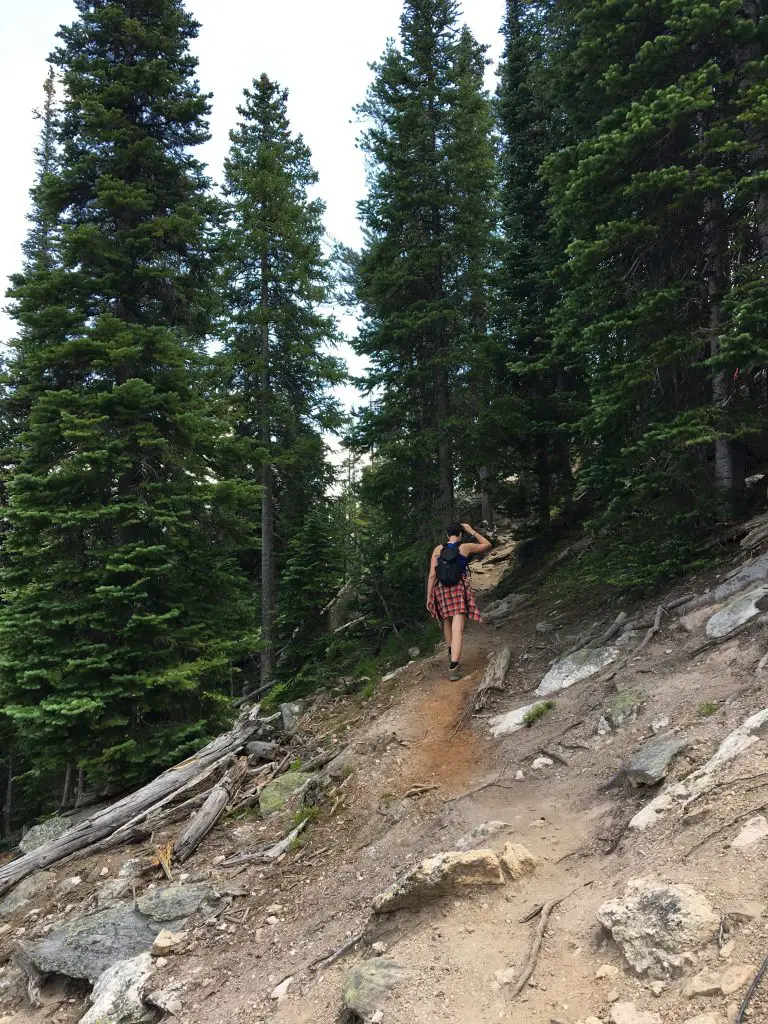 You'll also pass through patches of shaded forest at various points on the hike up as you walk along the switchbacks that take you across a couple different ski slopes. The majority of the hike, however, leaves you exposed to the sun—and since you're pretty close to the sun at 10,000 feet, it's important to make sure you're lathered up with sunscreen or wearing long sleeves and a hat. When we made it to the top, we took in the views, felt the wind in our hair, and rested at the Sunspot Lodge before heading back down the trail to relax for the evening.
Final Thoughts on Winter Park, Colorado in the Summer
Before our two-night stay in Winter Park in July 2017, I had only been to the area once before in college with friends for some snowboarding. Even though I grew up in Colorado, I was never a huge skier or snowboarder.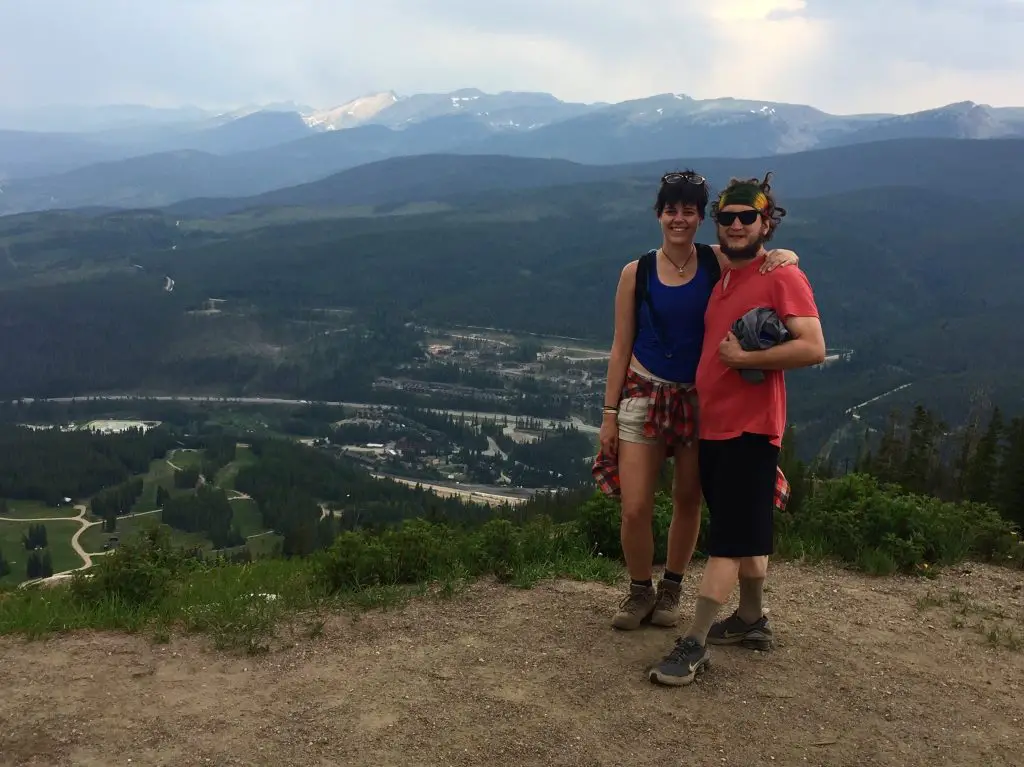 My mom took my sister and I to our local ski resort for ski lessons almost every winter growing up, but as I got older, and as skiing in Colorado got more expensive, I tended to opt out in favor of other activities. I made it a habit to go every couple of years in college to keep the basics in my back pocket in case I ever wanted to join my friends—pretty much all of which are avid skiers or snowboarders—but it was nice to enjoy Winter Park through my all-time favorite outdoor mountain activity this time: hiking.