Badlands National Park consists of over 240,000 acres of protected public land in South Dakota. Overall, the park is a collection of educational experiences, preservation efforts, and rugged landscapes. A well-maintained paved road runs through much of the Park with incredible view points to stop and take photographs along the way. The other-worldly Badlands National Park has something for everyone, whether you are traveling with family or looking for an extreme adventure.
Why is Badlands called Badlands?
Badlands National Park gets its name from its terrain. At the various lookout points in the park you get to see the infamous rugged landscape. Jagged rocks and peaks frame the view from just about anywhere you look. Often, these jagged features are accompanied by vast rolling hills all layered with different vibrant colors.
Badlands is called badlands because the terrain is rugged and vast. Long treks into the badlands need to be accompanied by serious preparation. But stopping at all the viewpoints and picnic areas is a nice way to safely and conveniently observe Badlands National Park for all it has to offer—which is a lot!
Our Experience at Badlands National Park
We wanted to experience Badlands National Park for quite some time by the time we went. This particular trip was more of a learning experience than a hard-core backpacking adventure, but considering what we have learned on our visit and since, I can not wait to get back to the Badlands for some more off-the-beaten-path adventures!
Badlands National Park is located in South Dakota South of Wall, SD and North of the Pine Ridge Reservation, one of the largest in the United States. On your way in, you are certain to see large billboards advertising for Wall Drug, a historic shop and restaurant well-known for free ice water. If the billboards don't convince, let us tell you—it's worth the stop! It's a local treasure and you may have even seen it featured in the Academy Award winning film, Nomadland.
Aside from experiencing the well-known yet obscure Wall Drug, a stop in this shop will also give you a place to get aquatinted with the area and gather some information on Badlands from the locals. Additionally, there is a lot of great information in this blog by the U.S. Department of Interior, 10 Things You Didn't Know About Badlands National Park. In the blog they address topics such as history, geology, and culture related to Badlands National Park. It is a must read for anyone planning a visit to Badlands National Park.
The Sunset at Badlands National Park
To begin, we arrived at the badlands in the evening just before sunset. The timing of our arrival was a fortunate coincidence since the views over the jagged rock formations were stunning. Lucky for us, it really was serendipitous to show up right around sunset and be able to have our first impressions of Badlands National Park occur during golden hour. This is a treat for hobbyist or professional photographers. The photos below were taken just across the road from Ben Reifel Visitor Center. If you make it during wildflower season as we did, which was in June, you're in for an even bigger treat for the eyes!
Camping Near Badlands National Park
We usually try to stay in a campground for the first night we arrive at a park. This gives us the opportunity to orient ourselves and decide a plan of action for exploring. With that said, campgrounds at Badlands are limited, but we found plenty of space to set up a tent at the Badlands White River KOA campground. There were a lot of families staying at this particular campground, and they provided meals for purchase and convenient amenities such laundry and wifi. This was one of our most hospitable stays at a KOA Campground. There is plenty of room and staff and guests were extremely polite. It was also enjoyable to see families and children playing at the facilities.
Roadside Viewpoints
Even for visitors who do not plan on camping at Badlands National Park, the roadside viewpoints are worth the drive and make for easily accessible adventures for children and families. The main road, Badlands Loop Road, starts at the visitor center and takes you all the way through the park, with the opportunity to loop back to the visitor center once you've made your way through. If you look at the National Park Map, you'll see there are over a dozen viewpoints. Each viewpoint includes a pull off so you can take your time, and stay safe, as you indulge your eyes in the immense and endless beauty that is the Badlands.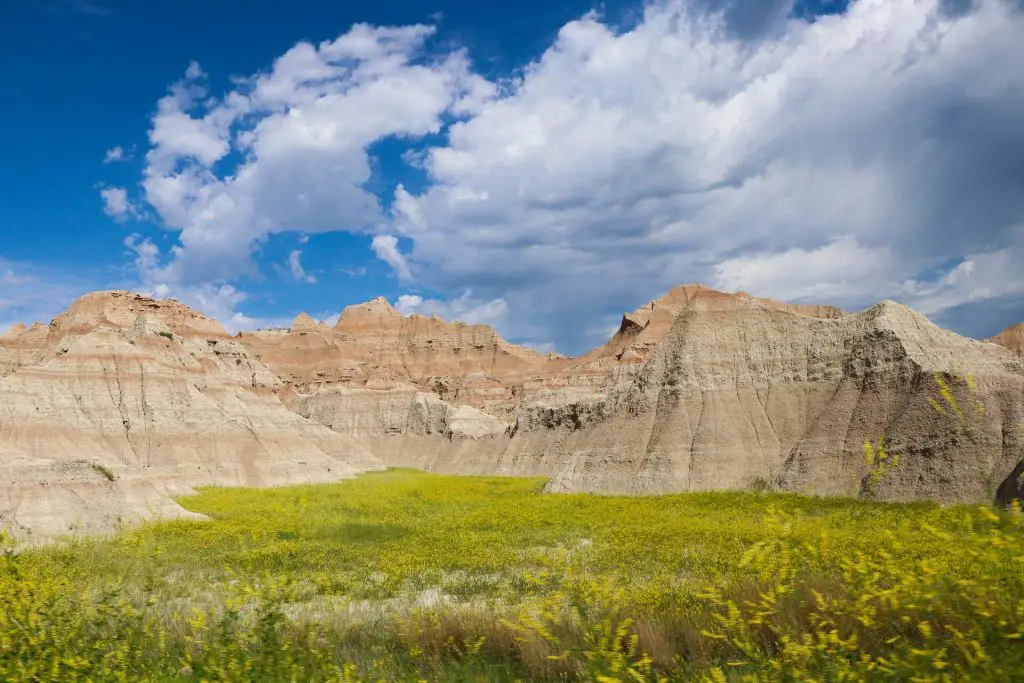 Saddle Pass Trailhead in Badlands National Park
We actually entered the park from the South fork of Sage creek. As we drove down the main road through Badlands National Park we eventually found Saddle Pass Trailhead. We hiked over the pass to a trail head leading to a trio of trails winding through the grassy plateau. We scouted parts of Medicine Root Trail but ended up simply finding vantage points along Castle Trail to take photographs. Signs indicated that it was rattlesnake country, so we were constantly on the lookout for those. This trailhead was a great stop to conclude our short trip to the park because we were able to take some final photographs of scenery that proved to be just as beautiful as our first sunset.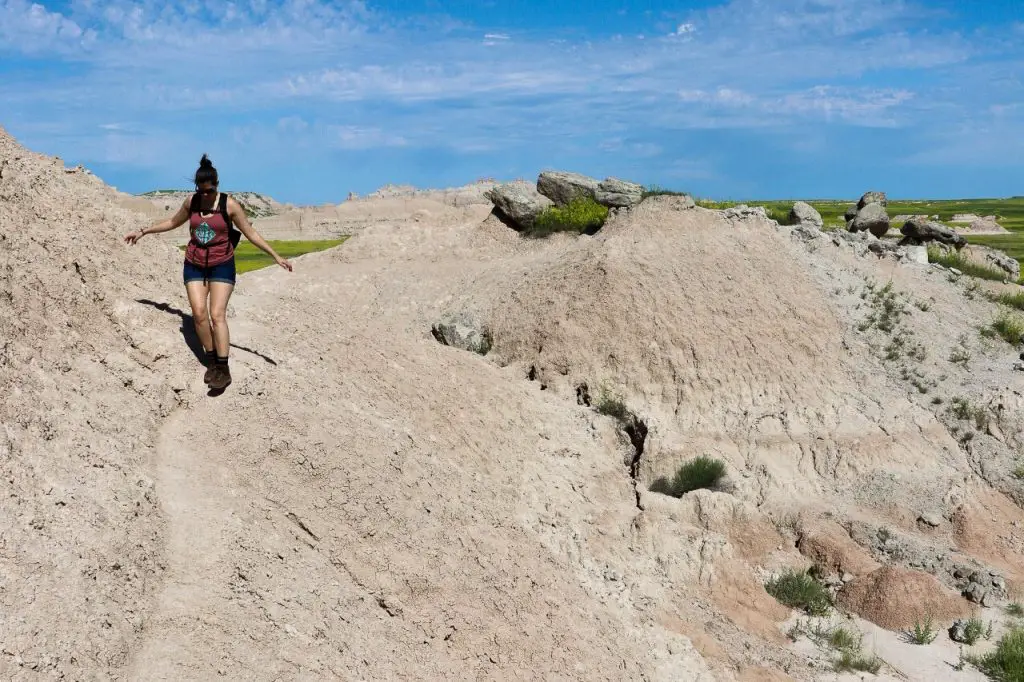 Final Thoughts on Badlands National Park
Once again, this was a quick trip through Badlands National Park and we fully intend on exploring the park in greater depth in the future. With that said, you really can see most of what the park has to offer in a short day trip. The fact that we were able to experience so much of Badlands in such a small amount of time is a testament to the accessibility of the park. The roads are great to drive on and each of the roadside view points offer incredible views and photographic scenery. This park has a really amazing set up for families to easily experience terrain that was once too rugged for people to casually visit.
So, is Badlands National park worth the visit? Absolutely!