The Mojave Desert is a large desert that spans across parts of California, Nevada, Utah, and Arizona. It covers over 47,000 square miles and is known for its harsh, arid climate, unique landscapes, and diverse plant and animal life. I first encountered the Mojave Desert when I set out to purchase a piece of vacant land in Arizona. Inspired by the wisdom of the Joshua Trees and the beauty of the sunsets, it did not take my partner and me long to become the owner of an acre of off-grid, vacant land in Northwestern Arizona's Mojave Desert.
Since purchasing our property, I've learned a thing or two about this unique and awe-inspiring area of the Southwestern United States. Keep reading for my complete guide to the Mojave Desert!
Climate in the Mojave Desert
The Mojave Desert is a hot and dry desert, with temperatures regularly exceeding 100 degrees Fahrenheit in the summer months. Winter temperatures are much cooler and can actually feel chilly, especially at night. The area also receives very little rainfall, with most of it occurring in the winter months. Since buying our vacant land, most of our time spent there has been in the winter months, for obvious reasons. And, surprisingly, we have seen snow for two winters in a row.
The first winter was a subtle dusting of snow that melted within a few hours of the sun rising. The second winter, however, we experienced an unprecedented blizzard for the area, leaving us with about six inches of snowfall. While cold, it made for an incredible winter snow scene with Joshua Trees and cacti covered in bright white, sparkling snow piles. You can get a taste from the Instagram Reel below:
Things to Do and See in the Mojave Desert
No matter where you find yourself in the vast Mojave Desert, there will certainly be a site for the eyes and some exploration to be done. But here a few of the more popular destinations in the area.
Tour Joshua Tree National Park
Joshua Tree National Park is likely the most well-known tourist destination in the Mojave Desert. The park is located in southeastern California and is a popular destination for hikers, rock climbers, photographers, and nature lovers. It is named for the unique Joshua trees that grow only in the Mojave Desert. The park offers a variety of hiking trails, rock formations to climb, and stunning desert scenery.
Explore Red Rock Canyon National Conservation Area
Located just outside of Las Vegas, Red Rock Canyon National Conservation Area offers visitors a chance to escape the bright lights of the city and experience the beauty of the Mojave Desert. It is known for its towering red rock formations, hiking trails, and opportunities to see wildlife like bighorn sheep and desert tortoises. Likely because of its proximity to Las Vegas, this area sees more than two million visitors a year.
Experience Death Valley National Park
The hottest, driest, and lowest in elevation of all the national parks, Death Valley National Park is located in eastern California and stretches into Nevada. Despite being the hottest and driest place in North America, it is home to a surprising amount of plant and animal life. The park also features stunning natural features like sand dunes, salt flats, and colorful canyons.
Visit Mojave National Preserve
Mojave National Preserve is a lesser-known national park located in southeastern California and offers visitors a chance to explore a quieter, more secluded part of the Mojave Desert. The park features unique geological formations like the Kelso Dunes, as well as diverse plant and animal life. Visitors can go 4-wheeling, hiking, camping, biking, backpacking, and more all in the beauty of the Mojave Desert.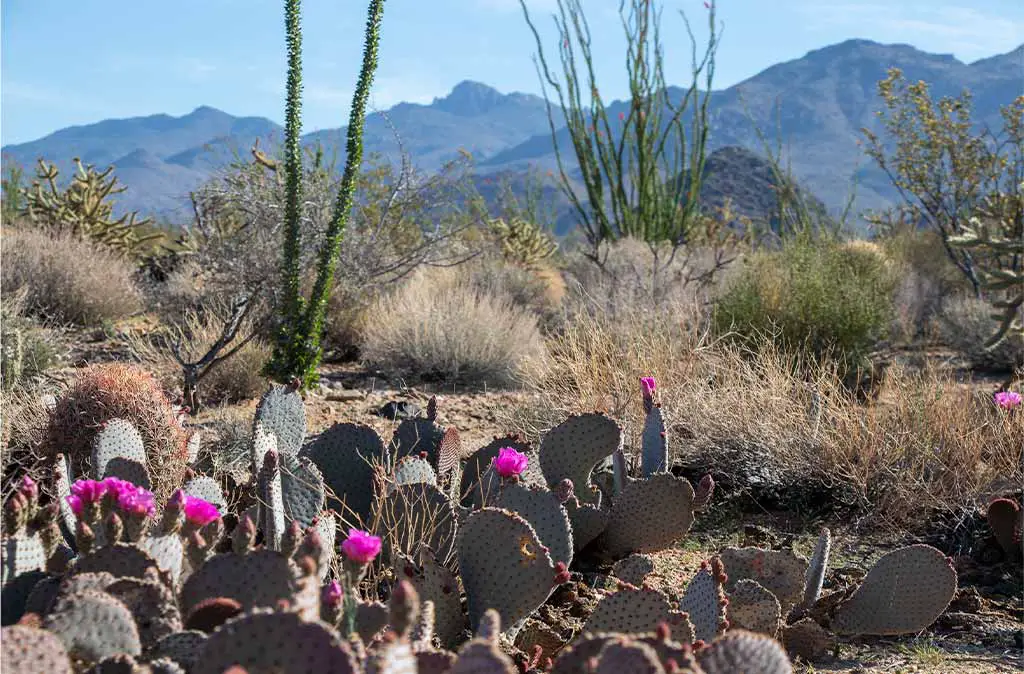 Drive through Route 66
Route 66 is a historic highway that stretches from Chicago, Illinois, to Santa Monica, California. It also passes through the heart of the Mojave Desert. Along the way, visitors can see roadside attractions like the Wigwam Motel, historic diners, and vintage signs. Oatman, Arizona, off Route 66, is known for the wild burrows that inhabit the historic town center and is worth a stop for those driving through.
Stay in Joshua Tree, CA
Joshua Tree is a small town located near Joshua Tree National Park and is known for its vibrant arts community and unique accommodations. Visitors can explore local galleries and shops, try unique restaurants, and stay in one-of-a-kind vacation rentals like desert domes or converted Airstream trailers. And, of course, being so close to the national park, visitors also have a plethora of outdoor activity options to indulge in during their stay.
Go Stargazing
The Mojave Desert is known for its clear, dark skies, making it an ideal spot for stargazing. There are several observatories and astronomy centers in the area, or visitors can simply head out into the desert on their own. Mojave Trails National Monument in Southeastern California, for example, has some of the best stargazing in the entire United States. In fact, the 1.6 million acres of public land is even protected as an international dark sky sanctuary.
Brush up on your History
In addition to its amazing natural wonders, the Mojave Desert also has a rich cultural history, including indigenous groups who have lived in the area for thousands of years. There is also the history of miners, ranchers, and settlers who came later. Visitors can learn more about the area's history by visiting local museums and historical sites like the Calico Ghost Town and the Mojave River Valley Museum.
Accommodations in the Mojave Desert
There are many different types of accommodations available in the Mojave Desert, from boondocking campsites and RV parks, to luxury resorts.
Camping
There are many campsites throughout the Mojave Desert, ranging from basic, no-frills sites to more developed campgrounds with amenities like showers and electricity. There is a tom of public land managed by the Bureau of Land Management (BLM) throughout the desert, and typically dispersed camping is available on BLM land, making that a popular option. Check out this guide to camping in the Mojave Desert for a list of established campgrounds.
RV Parks
If you're traveling by RV, there are many RV parks, in addition to established campgrounds, throughout the area. Many of the towns and small cities in the area, such as Kingman, AZ and Needles, CA have RV parks. You will find both RV parks for longterm residents and those catered to travelers, such as the Desert View RV Resort in Needles.
Hotels and Motels
There are also, of course, several hotels and motels located near the national parks and other attractions in the Mojave Desert. If traveling by Route 66, roadside motels are always a great choice. And, of course, there are the trendier and more luxurious such as the infamous invisible house in Joshua Tree, CA.
Vacation Rentals
For a unique and memorable experience, many visitors choose to stay in vacation rentals like desert cabins, yurts, or converted Airstream trailers. Depending on where you're staying, you'll find different options and prices. For example, near Yucca, AZ you'll find glamping options and tiny house retreats in the middle of the desert for around $100 per night. But, if you are looking to stay in Joshua Tree, you'll find most vacation rentals, although more luxurious than a yurt, go for $200 a night and up.
Resorts
For those seeking a more luxurious experience, there are several resorts located throughout the Mojave Desert, offering amenities like spas, pools, and fine dining. On example is the Mojave Resort in Palm Desert, CA. The Oasis at Death Valley is another resort option and includes an onsite golf course for visitors to enjoy.
Food in the Mojave Desert
The Mojave Desert is not known for its culinary scene, but there are still plenty of unique and delicious food options available in the area. From local favorites known across the country to more obscure options, we have got you covered in the short but mighty list below.
In-N-Out Burger
In-N-Out Burger is a fast-food chain known for its burgers and milkshakes. It has a cult-like following among Californians and is a must-try for many visitors. If you have never been and are in for an adventure, be sure to order your fries "animal style" for some extra toppings and flavor.
Pappy and Harriet's
Touted as the best BBQ in the desert, this famous roadhouse in Pioneertown, California is a must-visit if you find yourself nearby. Pappy and Harriet's offers live music, BBQ, and a lively atmosphere for all their visitors. A unique one of one restaurant, you are sure to enjoy a tasty meal and may even find your new favorite band all in one place.
Pie for the People
This popular pizza joint in Joshua Tree offers delicious pies made with fresh, locally-sourced ingredients. Pie for the People is a local favorite that has something for every pizza lover, even if they have a plant-based diet. Don't forget to also order a side of their specialty fries to complete your meal!
The Mad Greek
Located in Baker, California, The Mad Greek is a popular stop for travelers along Route 66 and offers a variety of Greek dishes. From gyros and pitas to baklava for desert, this greek restaurant has you covered with all the favorites. Plus, it is always great to support a small, family-owned business!
Tips for Visiting the Mojave Desert
While there is much fun to be had in this arid climate, the Mojave Desert is a place to be respected and visitors should protect themselves from the harsh environment. Use the following tips as a minimum requirement when visiting the Mojave Desert.
Drink plenty of water
The Mojave Desert is dry and can be incredibly hot in the Summer months. Therefore, it is important to stay hydrated to avoid heat stroke and other health issues. Even in the winter months, the dry climate will require your body to consume more water than you might be used to. Always have more fresh water with you than you think you need when exploring the desert whether by foot, bike, 4-wheeler, or car.
Wear sunscreen and protective clothing
The sun can be intense in the desert any time of the year. So, it is important to protect your skin by wearing sunscreen and covering up with hats, long-sleeved shirts, and pants. Long pants and protective shoes will also help protect you from any unforeseen cacti you happen to bump into or step on during your adventures. You can trust me when I say you do NOT want to bump into any cholla cacti with your bare skin. They call them "jumping cholla" for a reason!
Be prepared for the weather
The desert can be unpredictable, with temperatures that can vary widely between day and night. Bring layers and be prepared for both extreme heat and cold. If there is any chance of rain, you should also be prepared for flooding. Stay out of major washes during rainy weather and always be sure to have an escape route to higher ground in case of flash flooding.
Respect the environment
The Mojave Desert is a delicate ecosystem, and visitors should take care not to disturb or damage the plants and animals that call it home. The desert may seem like a harsh and uninhabited environment, but millions of plants and animals call the Mojave Desert home and rely on the environment for their livelihood. Being respectful looks like staying on the trails, giving wild animals a proper distance when viewing, and appreciating the scenery for exactly what it is, without alteration.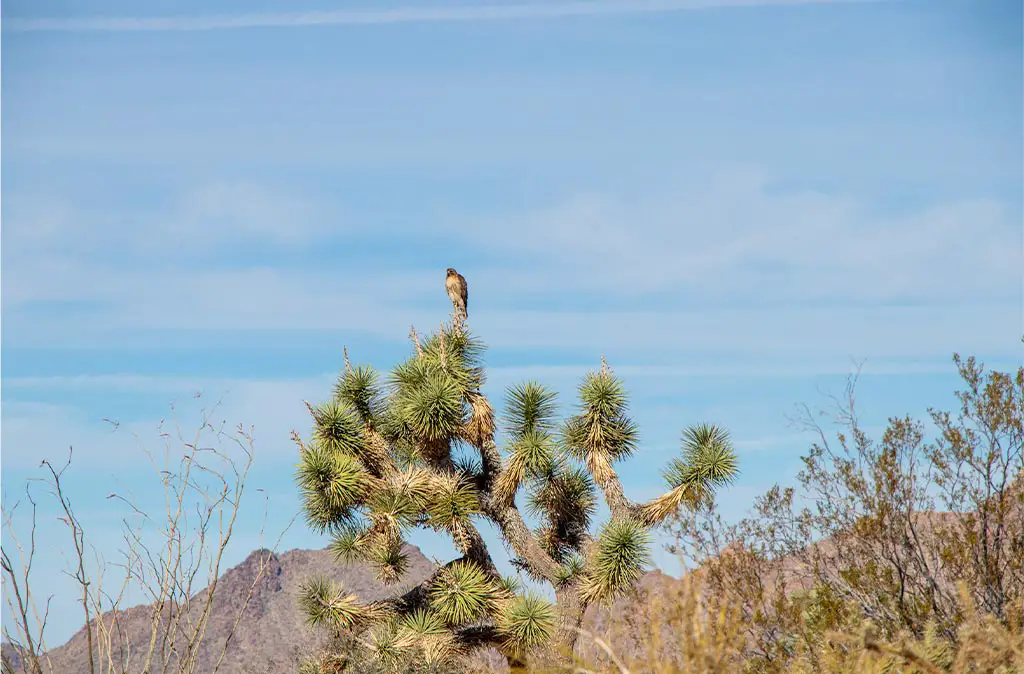 Leave no trace
That brings me to my final point to leave no trace. When camping or hiking, be sure to pack out all trash and leave the area as you found it. As much as you enjoy the desert, you should be sure to leave it just as pristine for future visitors. Even if you are not exploring an area managed by the national parks system, you should treat it as such. Respect the desert, and it will respect you.
Concluding Thoughts on Travel in the Mojave Desert
Overall, the Mojave Desert offers visitors a unique and unforgettable experience, with stunning landscapes, diverse wildlife, and a rich cultural history. Whether you're exploring the national parks, visiting roadside attractions along Route 66, or simply taking in the starry night sky, the Mojave Desert is a must-visit destination for any nature lover or adventurer. Be sure to add this southwestern area of the United States to your adventure travel bucket list to experience all the uniqueness it has to offer!
Read: Spring Brings Vibrant Cactus Flowers to the Mojave Desert