If you ever get the chance see the feeding of Texas State Longhorns and bison at San Angelo State Park near San Angelo, Texas, it is sure to be a memorable experience!
San Angelo State Park is overall a super nice state paper. We drove in and around the park to check out campsites, picnic areas, and more. The park has nice camping spots with shade, a boat ramp to the lake, and bike trails running along the hills and prairies of the park. The main event for us, however, was watching the park employees feed the herds of bison and longhorns.
The state park is home to protected herds of both bison and the famous Texas state longhorns. Both herds are kept separate, but if you visit at the right time you get to see the employees drop food from the back of their truck into little piles along a viewing area, signaling to the herds that it is feeding time. Separated by a fence, visitors get to watch the incredible animals up close as they eat and interact with one another.
Check out our amazing photographs below from our time observing both the bison and longhorns at San Angelo State Park.
Bison at San Angelo State Park
Bison are beautiful animals and lovely to observe up close. The bison in particular came rumbling up the road when they heard the truck dropping food. You could see the dust kicking up as they emerged from the distance. You get the opportunity to see the entire herd interact, including the youngest members of the herd. The babies rested at ease in the middle of the circle while the dominant males push their way around the herd, often stealing pellets from the smaller members.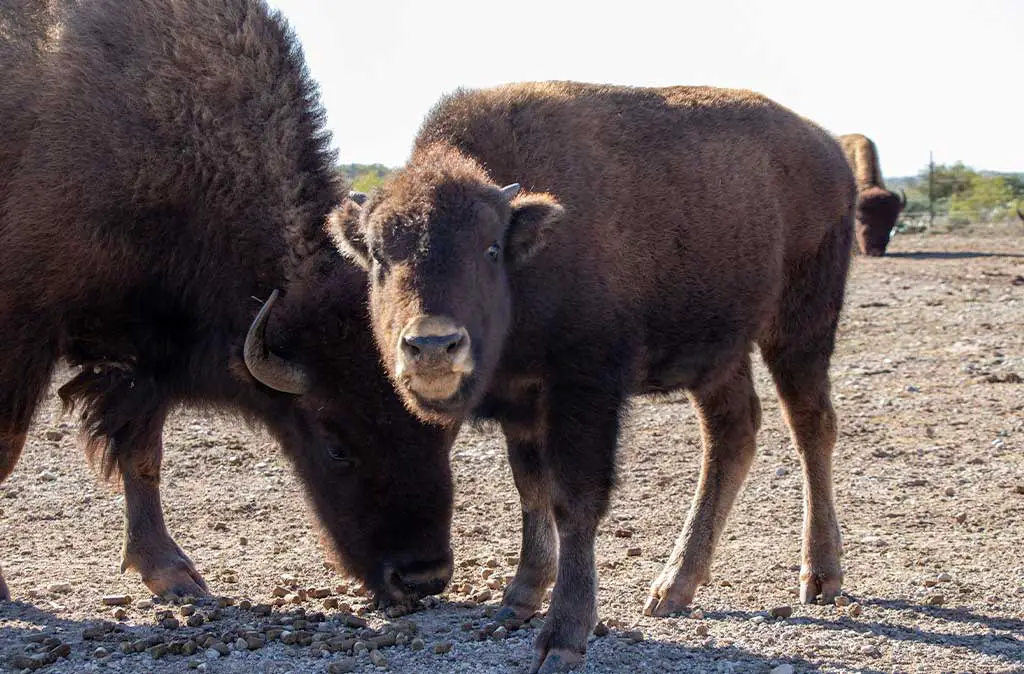 Texas State Longhorns at San Angelo State Park
The herd of longhorns at San Angelo State Park is actually part of the official State of Texas Longhorn herd. There is an incredible history to this long standing and preserved herd of longhorns. The herd was officially donated to the state of Texas and has become preserved in state parks through the state. This preservation effort includes San Angelo State Park and offers a truly remarkable experience to see them up close.
Final Thoughts on Visiting the Official Texas State Longhorns at San Angelo State Park
San Angelo State Park does not necessarily have a household name when it comes to attractions in Texas and the Western United States. Still, it is worth the visit! Whether you are a couple, family or on a solo vacation, seeing the bison and longhorns up close is worth the visit to San Angelo State Park.
Other activities to do while in Texas on vacation include camping on the Texas coast, exploring the Caverns of Sonora, and visiting the USS Lexington Museum.