The USS Lexington was an Essex Class aircraft carrier, commissioned in 1943. I served in the US Navy from 2007-11 on the USS Carl Vinson, a Nimitz Class aircraft carrier. I have long wanted to tour a Navy ship museum with my partner Stephanie, so when we were in Corpus Christi, Texas I was excited to tour the USS Lexington museum and reflect on my own experiences.
In this review, I share some of the basic details about my experience as a tourist and reflect on the experience as someone who has previously lived and worked on an aircraft carrier.
How Long Does it Take to Tour the USS Lexington?
The USS Lexington Museum is an open-exhibit museum. You guide yourself and may take as long as you like to see and experience the museum. If you are someone who would be happy to simply see the hangar bay and the flight deck, you could probably be in and out of the museum in 45 minutes to one hour. If you wanted to experience all four self-guided tours, the museum will likely take you a couple hours. We were at the museum for around 4 hours, which included me telling old stories and such.
The museum has several video presentations and other interactive learning experiences that are engaging and interesting, so I would recommend leaving yourself an adequate amount of time. With a wide array of exhibits throughout the ship, there is likely to be some element of the museum of interest to everyone in your group. The USS Lexington Museum offers an interesting balance of representing the history of the USS Lexington itself, and the living conditions of sailors working and living on aircraft carriers. You can easily get lost in intrigue at any point in the tour.
Review of the USS Lexington from a US Navy Veteran
As I previously noted, I served on a Navy ship similar to the USS Lexington. They are both aircraft carriers, so most of the elements of my daily life on an aircraft carrier were similarly represented in the museum.
On this occasion, I was touring the USS Lexington with my parents and Stephanie. My mother had the opportunity to tour an aircraft carrier with me once before so she had some experience, but I was particularly interested in showing Stephanie the backdrop to so many of my Navy stories.
My overall reaction is that the museum is outstanding. Truly, this place is a gem. The experience is one blended between historic original artifacts and new-age learning experiences. I highly recommend visiting the USS Lexington Museum and supporting them in any way possible.
All that said, there are few reflections on specific areas of the tour I am excited to share below.
Health and Dental
Some of the more interesting exhibits included the health and dental offices on the USS Lexington. The way the rooms are set up is very similar to the medical offices I once used, making it a nostalgic exhibit for me and, likely, other Navy veterans.
I have several memories of the medical departments when I served on an aircraft carrier. Medical service was actually quite good as far as I could tell. I was always treated well and from all accounts the medical staff provided whatever treatment I needed. My most common memories of medical care were those of standing in lines and waiting for a vaccine, or waiting to provide urine for a urinalysis. I remember standing in line for an entire day for both of those occasions. Then again, there is a lot of standing in line in the Navy.
I also recall having a migraine on a deployment and laying in a cot similar to those on the USS Lexington. At the time, I did not know what was going on and neither did the medical staff. One of the worst parts of this experience was feeling like I wanted to know what was wrong with me because without an exact ailment, others would think I was just trying to get out of work.
Because of this experience, the next time I had a migraine on deployment, I worked through it. I worked during flight operations on the flight deck of an aircraft carrier with a migraine, mostly because I did not want to look like I was faking an ailment, but that's a topic for another blog.
Post Office
The post office may seem inconsequential. Besides, most of us do not even need mail anymore. But for sailors, it is an important connection to home. I remember receiving letters from my mother, cookies from my grandma, and free books from non-profit organizations. Throughout a deployment, I cannot fully state how important those amenities are.
On the note of books, reading became a really therapeutic outlet for me and others on deployments. I was always really grateful when a new shipment of books would come in. I do not fully remember the name of the organization, but they would periodically send boxes of books that people had donated for the military. I read nearly every day on my deployments.
Ship Store
The ship store on the USS Lexington is an operational store where visitors can buy souvenirs to help support the museum. It was an interesting use of this historical space for contemporary purposes. For me, I always like sharing that there was a store on the aircraft carrier. For some people this is really a surprising point.
I recall many times running to the ship store for snacks or other small goods. A popular phrase among sailors was, "You Fly, I Buy," meaning one person would pay for your snacks as long as you agreed to run to the store to retrieve the snacks.
Hangar Bay
The hangar bay of the USS Lexington Museum is the basecamp for all of the displays at the museum. As I previously mentioned, there are four main tours in the museum. Each tour starts and ends in the hangar bay.
While I did not work in the hangar bay, I do have several memories there because the hangar bay is where big events on the ship are held. One memory I have was an event held by the captain of our ship prior to us going to port in Brazil. He was holding this event to help prevent STIs on our visit to the country. Somehow the presentation worked its way up to this 60-something captain of the ship singing Beyonce's, "All the single ladies." I do not really remember the whole message, but I definitely recall his singing.
Flight Deck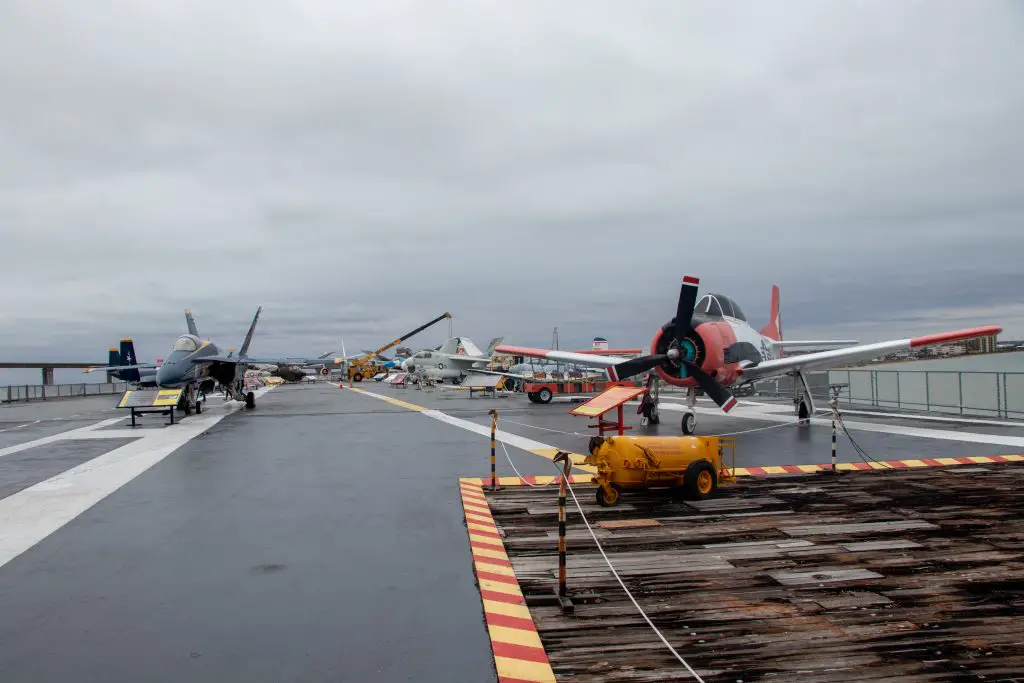 The flight deck was my domain when I served in the Navy. On the tour of the USS Lexington, I had a couple different reactions. First, all of the equipment and jets that are on display give visitors a really amazing perspective of the work life on the flight deck of an aircraft carrier.
I was able to talk about my experiences chocking and tying aircraft to secure them to the deck. I was also able to show how jets land with a cable on the deck and a tailhook on the plane. The equipment and planes on the flight deck of the USS Lexington have been preserved incredibly well. Additionally, the jet used in the movie Top Gun rests on the flight deck of the Lexington, so that is a bonus!
My second reaction on the flight deck of the USS Lexington was a nostalgic feeling. There is really no other feeling like looking out over the open ocean from the flight deck of an aircraft carrier. When the weather is calm, it is like being on top of a tiny island in the middle of the ocean. All you can see is water all around. When you visit the flight deck of the USS Lexington, remember to look out and experience the views.
Final Review of the USS Lexington Museum
I have already mentioned that I highly recommend visitors of Corpus Christi plan a little extra time to visit the USS Lexington Museum. There is quite a bit of walking and lots of stairs to climb, but it really is a great tour for the whole family. There are even several areas of the museum that are wheelchair accessible.
The one last reflection I have is about the wall insulation—seemingly random, I know. The wall insulation is one area that most visitors will overlook, but as a Navy veteran who once served on an aircraft carrier I noticed it right away. At the beginning of my service, my ship was stationed in the docks and being reconstructed in various ways. One way I learned to make myself useful was by installing insulation. Insulation on a ship is a bit different other insulation jobs, but I got to be pretty good at it and after a while my buddies and I made a name for ourselves for mastering insulation installation and other tasks.
It just goes to show how well the USS Lexington Museum has been maintained! Please visit!