Gunnison, Colorado is an adventure travel paradise. Surrounded by majestic Mountains, this scenic destination offers a multitude of thrilling experiences. With easy access to both the Rocky and San Juan Mountains, the town of Gunnison is surrounded by adventurous things to do outdoors. You do not have to drive very far in any direction and you will come across some sort of adventure travel activity in the mountains.
From thrilling hikes and mountain biking trails to exhilarating whitewater rafting and rock climbing, Gunnison has it all for the adventure seeker. Join us as we explore the top adventure travel activities in this corner of Colorado. Before I begin I just want to say, please make sure you are prepared prior to making your way into some of these remote places in the mountains! At a minimum you ought to have plenty of water, some food, a few layers of clothing, and some first aid supplies.
With that said, let's dive in!
Adventure Travel Camping Experiences near Gunnison, Colorado
First I will address camping near Gunnison, Colorado. There are several places around Gunnison to have a camping adventure. Whether you are seasoned in back-country camping or just looking for a nice campground for a summer family gathering, there are camping opportunities all around Gunnison, Colorado.
Campground Camping around Gunnison, Colorado
There are some really amazing campgrounds around the Blue Mesa Reservoir and in the Taylor Canyon.
The climate near the Blue Mesa Reservoir can get hot in the summer, but the spring and fall are nice and this is the largest Lake that is entirely located in the state of Colorado. So, there really is no other experience like camping and exploring the Blue Mesa Reservoir and the Curecanti National Recreation Area. Even if you do go camping at the Blue Mesa Reservoir in the summer, you should be able to find a shaded camping spot at one of the campgrounds.
Boating, fishing, and hiking are all day activities within a short distance of the campgrounds near the Blue Mesa Reservoir. Recent reports suggest there are World Record trout in the Blue Mesa's waters. You are also just a short drive from the town of Gunnison. You can visit the local outdoor store called Gene Taylors where they can line you up with gear for a wide variety of adventure travel activities including camping, hunting, fishing, water sports, and winter sports.
One other suggestion for campground camping is near Spring Creek Reservoir. You can read more about our experience camping at Mosca Campground in Spring Creek Reservoir, or check out this more general description of the area. If you are looking to fish at Spring Creek Reservoir, be sure to check on the water levels and other fishing regulations.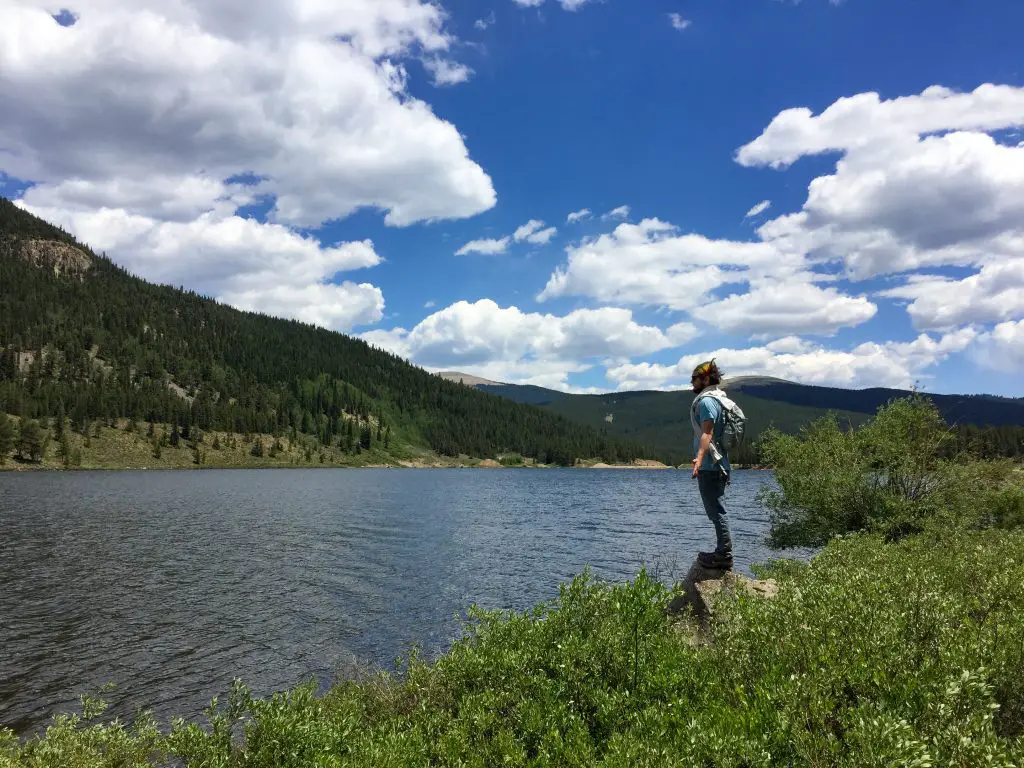 Dispersed Camping Experiences around Gunnison, Colorado
If dispersed camping is a better adventure travel activity for you, then you are in luck. Gunnison, Colorado and surrounding area are full of the National Forest and Bureau of Land Management public lands.
One of my favorite places for dispersed camping around Gunnison, Colorado is around Taylor Reservoir. While Taylor Canyon as mentioned above is a great place for campgrounds, if you travel up the canyon and past the reservoir, you will find some pristine spots for dispersed camping. People often camp with OHVs when they visit this area because there are lots of dirt roads and trails. There are also lots of small ponds and creeks around Taylor Reservoir for fishing.
Be sure to bring your camera to document your adventure camping experience at Taylor Reservoir. You can get some great shots of the water, the surrounding mountain views, the gorgeous wildflowers, or the diverse wildlife. We see moose, marmot, deer and other wildlife when we go dispersed camping around the Taylor Reservoir.
Adventure Travel Fishing around Gunnison, Colorado
The Gunnison, Colorado area is known for some of the best fishing in the entire Rocky Mountain Region. I have already mentioned some of my favorite spots around the Blue Mesa and Taylor Reservoirs, but there are many other fishing adventures in Gunnison. For even more tips on fishing in the area, check out our blogs titled, Fishing the Lake City Bridge near Gunnison, Colorado, or Fishing Gunnison, Colorado: Top Spots and Tips.
Otherwise, here are a couple of quick tips for an adventurous fishing trip near Gunnison.
Adventure Travel Fishing for Children
I have written an entire blog on the topic of fishing at Roaring Judy State Fish Hatchery, but I will reiterate a couple points here. Roaring Judy State Fish Hatchery is an incredible place to introduce your children to fishing and spending time outdoors.
Children will be able to visually see the fish in the ponds which might help with developing the patience for fishing. Sure maybe the fish are not taking your bait, but you see how they interact with your lures. This can be valuable information if you are teaching your young ones the nuanced details of fishing.
Whether its your child's first fishing trip or whether they are exploring a new technique like fly fishing, Roaring Judy Fish Hatchery is a must for beginner adventure enthusiasts.
Adventure Fishing for the More Advanced Traveler
For the more advanced fisherman looking for adventure travel, grab your fly rod and waders and hit the rivers and streams around Gunnison, Colorado. The Gunnison River itself has sections dedicated as Gold Medal Fishing Waters. If you hook up with 15 to 20 inch Rainbow Trout on a fly in the heavy current of the Gunnison River, you will be in for the fishing adventure of a lifetime.
Fly fishermen also can enjoy fishing the Taylor River and the East River, these are the other two prominent rivers in the Gunnison area. If you are looking to wade smaller creeks while you cast your fly rod, there are plenty of those as well. Willow Creek is one of my favorites, but there are a ton of different creeks so do some of your own exploration to find the best fishing creeks around Gunnison.
Once again be sure to stop by Gene Taylors in Gunnison for seasonal tips. They have a nice assortment of flies and their staff have always been really informative.
An Adventurous Scenic Drive near Gunnison, Colorado
One of my favorite adventure travel activities is driving over Cumberland Pass. To get to Cumberland Pass you first head east out of Gunnison on Highway 50 toward Salida. A few miles out of town you will turn off at Parlin. You will travel through small communities called Ohio City and Pitkin. Eventually the road will get pretty narrow and you may need four wheel drive depending on conditions, but two-wheel drive with good clearance should be fine. Either way the drive over the pass can be pretty adventurous so be prepared and pay close attention while driving.
You can stop at the top of the pass for a picnic or just to take some photos, but the view is one of a kind from atop Cumberland Pass. As you descend on the other side of the pass, there will be several places to stop and take photos.
Descending Cumberland Pass
There are lots of little places to pull off the road and explore green mountain meadows, small creeks, or abandoned mining sites. You should remain aware, though, because there is a lot of private land mixed in with the public lands, so abide by all property signs and fences.
Eventually, you will arrive in Tincup, a little town with pretty much just a store. As you continue beyond Tincup you will eventually turn toward Taylor Reservoir. As previously mentioned there are fishing, camping, and other adventure travel opportunities around the Taylor Reservoir. If you are just passing by, then continue down the Taylor Canyon and make your way to Almont. Almont is a neat little town with services where you can also rent cabins or tours. I often see horseback riding tours when I drive through Almont. They also have a fly shop, so I imagine you can stop in for gear or tips.
Once you are in Almont, you are also on Highway 135 which will take you back to Gunnison, where this adventure began, or you can continue your travels to Crested Butte.
Final Thoughts on Adventure Travel Activities in Gunnison, Colorado
Gunnison, Colorado is an adventure travel paradise surrounded by Mountains. With easy access to both the Rocky and San Juan Mountains, this scenic destination offers a multitude of thrilling experiences. From hiking, mountain biking, and whitewater rafting to camping, fishing, and scenic drives, Gunnison has something for every adventure seeker. So, pack your gear, embrace the thrill, and let Gunnison's natural beauty and exciting activities create memories that will last a lifetime.