Bailey's Discount Center is located in an enormous warehouse, accounting for nearly 5 acres of bargain shopping under one roof. It first opened in 1985 and has since grown from a 3,000 square foot warehouse, to a warehouse of over 200,000 square feet. Simply put, this is a place where you can buy any number of household items at an extremely discounted price. This place is a discount shopping adventure.
Where is Bailey's Discount Center Located?
Bailey's Discount Center is located in North Judson, Indiana. It is located about 65 miles North of the city of Lafayette and 55 miles South from South Bend where the University of Notre Dame is located. North Judson is a small town located in an agricultural area of Indiana, so it seems "in the middle of nowhere," but Bailey's Discount Center markets themselves as the America's Bargain Capital. Their middle of nowhere location actually works in their favor as manufacturers could sell their closeouts to Bailey's at discounted prices without upsetting their regular customers
How Does Bailey's Work?
Consumers get outrageously low prices on goods from Bailey's Discount Center because the store is getting the goods at a great price as well. The owners of Bailey's explain that they, "search the world for closeouts, surplus, and discontinued items." They are then able to acquire those goods at a cost lower than wholesale and pass those savings on to their customers.
This means that as a shopper you do not really know what goods are in the store at any given time until you visit. Their inventory is always changing, but that is part of what makes Bailey's a great discount shopping adventure. You may know that generally the store carries household items and some light groceries, but you will not know the exact items until you explore the aisles.
What Can You Buy at Bailey's Discount Center?
On their website, they advertise selling general merchandise, home furnishings, and flooring and rugs. From our experience, the range is vast and there is probably something for everyone. We generally bought non-perishable food items like canned goods, snacks, and drinks. We also sometimes scored some discounted frozen meat to take home for dinners. Some staple household items that were almost always in stock were toilet paper, paper towels, and cleaning supplies.
While we were never in the market for new furniture during our visits, they do have some incredible options for those who are. There are discounted mattresses, sofas, dining room tables, office desks, and more. Their rug selection was also always plentiful. Cabinets were also regularly advertised. Although, not having ever bought cabinets through Bailey's Discount Center, we could not tell you for certain how that process works.
Beyond food, household items, and furniture, there is also a huge selection of indoor home decor, outdoor garden and patio goods, and a light assortment of tools, batteries, and electrical goods. Every so often, you might even find household appliances like a stove on sale for a great price. In general, if you are anywhere close to the area, it is always worth looking at Bailey's Discount Center to see if they have what you need at an astronomically discounted price.
The Bailey's Discount Center Shopping Experience
We visited Bailey's Discount Center on several occasions throughout our time living in Lafayette, Indiana. It would work out to where we could take one hundred dollars in cash and stock up on enough candles, cleaning supplies, snacks and other items to last an entire semester of graduate school. We made the trip about twice a year once we learned about it from a local farmer at the farmer's market.
When you enter the store, it is overwhelming at first. The store was usually busy with lots of customers pushing large shopping carts. The aisles are large enough to accommodate said shopping carts, but it is busy and you may get stuck in shopping traffic at some point. Again, it is an adventure!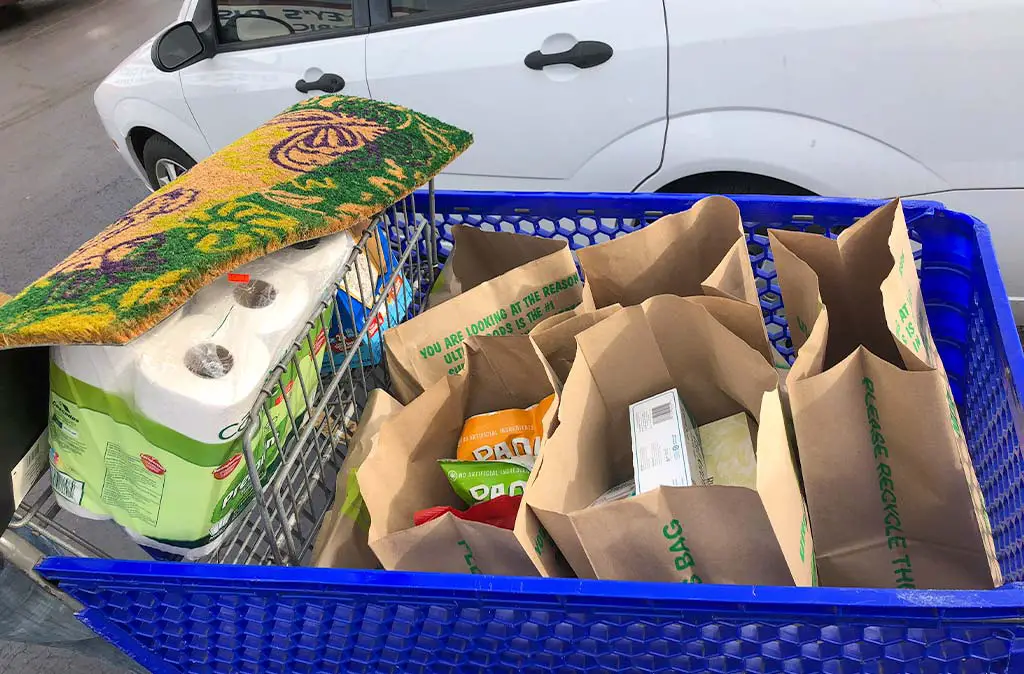 With that said, do not expect a quick trip into Bailey's Discount Center. Part of the charm is exploring each and every aisle to see what products Bailey's currently has in stock. If you have an entire afternoon to spare, then Bailey's is best experienced as a half day event. But, it is worth the time invested because we all buy these types of household goods throughout the year at much higher prices. And that is precisely why it is good to take a trip to Bailey's once or twice a year and stock up on everyday goods at cheap prices.
Final Thoughts on Discount Shopping at Bailey's
Overall, I highly recommend a trip to Bailey's for everyone interested in a good discount shopping experience. Bailey's might be particularly appealing to students from nearby universities such as Purdue University or the University of Notre Dame who are living on a strict budget. Families in the area will also most certainly be pleased with what they find at Bailey's Discount Center. If you are anywhere near this bargain shoppers mecca, I hope you decide to make the trip as soon as you can! I promise, you won't regret it.