One element of travel that I believe is underrated is eating locally. Often we might think of eating local types of food, but we may not put much consideration into eating food that is locally sourced. One great way to source local food is through farmers markets. In places like Thailand, farmer's markets are a such a large part of the culture that most tourists get their produce at the market. In places like the United States, we may have more convenient options for food on our travels. Restaurants and grocery stores are open everyday and might be less crowded. This brings me to Dane County Farmers Market.
The Buzz on Dane County Farmers Market
Considered the largest farmers market in Wisconsin, Dane County Farmers Market is worth a visit for all travelers. In this case, the farmers market is part of the culture. Sure, it may be only open on one day of the week and there is sure to be crowds, but attending the market is a great experience for all travelers passing through Madison.
Situated near the capitol building in Madison, Dane County Farmers Market is one of the best ways to experience the city. You will get a sense of the city's history and culture, while experiencing the most famous squeaky cheese!
Saturday on the Square
The specific event we attended was the Saturday on the Square market. Hosted from mid-April through mid-November, this farmers market has everything you could want throughout the season! From fresh produce and cultivated mushrooms to squeaky cheese curds and various home-made gifts, there is certainly something for everyone here.
As we ventured around the Square, we were met with bright colors, exquisite smells, and crowds of people who, like us, were enjoying the warm Summer morning and some snacks for the walk.
We were on a cross-country roadtrip from Indiana to Colorado when we stopped through Dane County for the Farmers Market. Therefore, we took the opportunity to stock up on some snacks for the road that included fresh berries, veggies, and, of course, cheese curds.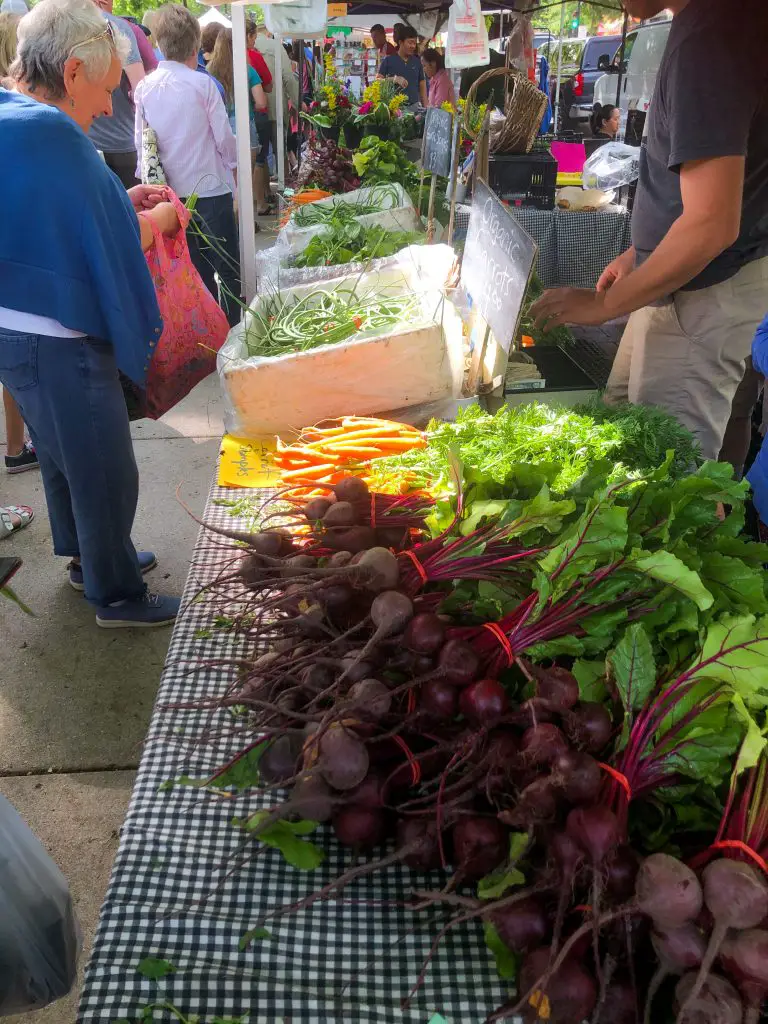 Wisconsin's Famous Squeaky Cheese
In addition to the benefits of supporting local farms and eating sustainably, exploring locally sourced cuisine can be educational!
Have you ever wondered what makes Wisconsin's famous cheese curds squeaky? Well, we certainly have, and being right in the heartland of these delicious novelties created a great place to find the answer to that question.
It turns out that the squeak we sometimes—but not always—hear when munching on the tiny bites of dairy-filled-deliciousness comes from the tightly woven protein network in the cheese. When we bite down, those protein networks "rebound" from our teeth, creating a squeak. Importantly, however, the squeak only occurs for a short period of time after the curds have been produced. That's why you only get the squeak from fresh cheese curds.
Final Thoughts on Dane County Farmers Market
Dane County Farmers Marker is worth the trip even just for those sure-to-squeak fresh cheese curds. But, that's not all this wonderful place has to offer. Unless you, yourself, are an avid farmer, you are likely to encounter some new produce, including multiple species of mushrooms we saw throughout the market and the bright pink French radishes pictured above.
If you find yourself in Madison, Wisconsin during the April-November season, we highly recommend a Saturday morning outing to the farmers market to enjoy some fresh cheese curds, local produce, and a welcoming ambience!